Heat flash
Alex Ferguson says LeBron James-inspired Miami will ease past Milwaukee in the NBA play-offs.
Last Updated: 18/04/13 6:08pm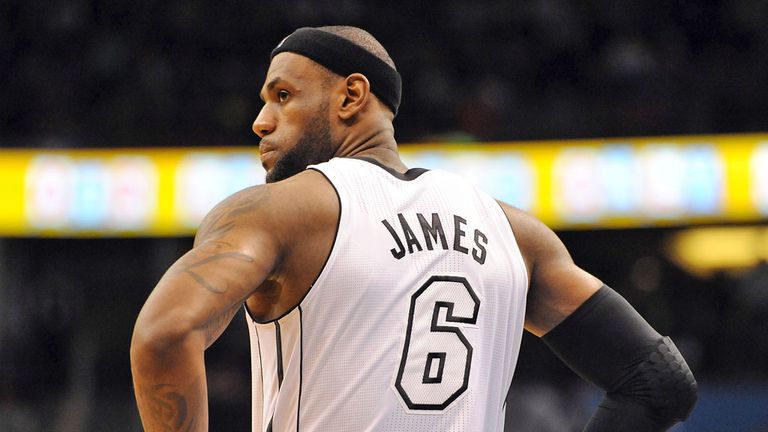 Just days after the amateurs gave us the madness that was March Madness, the professional basketball give us even more with the NBA Playoffs, which begin on Saturday.
There's British interest with Luol Deng leading the way for the Chicago Bulls, but the world's eyes will be LeBron James and the Miami Heat, as well as the LA Lakers, who - despite missing the inured Kobe Bryant - managed to secure a play-off place.
skysports.com blogger Alex Ferguson cannot wait for the action to get underway and has previewed all eight, best-of-seven, first-round matches...
EASTERN CONFERENCE
No.1 Miami vs No.8 Milwaukee
Can the Bucks really stop LeBron James, Dwayne Wade and Chris Bosh? Can they really stop Ray Allen from the perimeter? Can they? The Bucks will be relying on Monta Ellis to do the job against the Heat, who beat them 3 out of 4 times this year. Sorry for the short preview of this match-up, but it's going to be a pretty short series.
PREDICTION: Millwaukee manage to get one game, but Miami stroll. Miami in 4.
No.2 New York vs No.7 Boston
This is going to be the most exciting series of the first round - and maybe the whole of the play-offs. A lot of love has followed the Knicks around this year - and mostly around NBA Scoring Title winner Carmelo Anthony, who's averaged a tidy 28.7 points per game in the Knicks exceptional season. But it's not all been Anthony - the experience of JR Smith and Jason Kidd has helped immeasurably, and the play of Raymond Felton has also lightened the load. But against the Celtics they have a tough opposition. Despite losing Rajon Rondo earlier in the season, the Celtics have managed to keep a play-off place, and Kevin Garnett and Paul Pierce can, and will, dominate if given half a chance. Plus, BOTH sides have home field advantage. New York's Madison Square Garden and Boston's TD Garden (or the Boston Garden, as most of us like to say) are off-the-hook during play-off time. If it matters, the Knicks won the season series 3-1 - and the last two of them in blow-outs.
PREDICTION: Knicks in 7 - because they've got one more game at home.
No.3 Indiana vs No.6 Atlanta
Some teams have shone out during the season, and some teams have been quietly excellent. The Indiana Pacers have been just that: quietly excellent. They only had one player in the top 25 of scoring (Paul George, with 17.4 points per game), but in defense they are brilliant. They are the second-best defensive team in the East, giving up just 94.6 points per game. They are great at quieting a team's perimeter game, too. Atlanta, however, are mediocre defensively, but Josh Smith's 17.5 per game makes them a tough proposition. Plus, Indiana's Paul George has a strained abdomen, and might not play Game 1. There's not a lot to pick between the two teams, who tied their regular season series 2-2.
PREDICTION: Indiana in 6
No.4 Brooklyn vs No.5 Chicago
It's funny, because when people mention the Brooklyn Nets, they'll probably mention one of the world's biggest rappers (and Beyonce's husband), Jay-Z. Jay-Z's ownership of the Nets set a lot of tongues wagging, and with a fourth seed in the NBA, they have a legit shot at progressing. Brook Lopez is the top scorer, while Deron Williams doles out the assists. Of course, those flying the flag for Britain will be cheering on the Chicago Bulls, because of the presence of Luol Deng. Deng averages 16.5 points per game, and Carlos Boozer - if he doesn't make stupid mistakes - can own the boards. See the game against Miami for details. What the Bulls have though, is injuries. Joakim has a foot injury and we don't think he'll be 100 per cent for the Nets game (he'll play anyway), while Brooklyn have none to think of. Having said that, Brooklyn are going to need the Barclays Center to roar. By the way, Chicago won the regular series between these two sides 3-1.
PREDICTION: Chicago in 7 in a classic series. Can we get an encore? Please?
WESTERN CONFERENCE
No.1 Oklahoma City vs No.8 Houston
Frightening. That's how I would describe the Oklahoma City Thunder. Kevin Durant is the second-best point scorer in the league. Russell Westbrook absolutely flies down the court. Their defense keeps teams to under 100 on average - led by Serge Ibaka, the league's blocks leader. How are Houston - who are worse-than-mediocre against conference opponents and lost the regular season series against the Thunder 2-1, going to cope? Well, they've got the beard, James Harden. In the off-season, Harden decided he wanted to start with a team, so he left Oklahoma City to join Jeremy Lin at the Houston as a starter. And he's been sensational, averaging 25.9 points per game - and he'll kill a team from three-point range if given half a chance. You don't think Harden will be up for it against the backdrop of a deafening Thunder crowd? Think again.
PREDICTION: Harden shoots loud, the Thunder are louder. Thunder in 5.
No.2 San Antonio vs No. 7 LA Lakers
As we talked about with the Indiana Pacers, if there's a team that's personifies 'Quiet Excellence', it's the San Antonio Spurs. Future Hall of Famers Tony Parker and Tim Duncan as usual lead this team, who always seem to do well in the play-offs. They have six players who averaged over 10 points per game this season, so the Spurs aren't about heroes, making them incredibly likeable. Speaking of heroes, Dwight Howard has happily gone with people calling him Superman, yet his actions in the last two years at both the Orlando Magic and LA have made him as superheroic as toast. But with Kobe Bryant done for the year, Howard's going to HAVE to come out as a leader. True, he can dominate on the boards - and has come up big defensively in April. Apart from Miami and the LA Clippers, there is no team hotter in NBA than the Lakers (they have won five in a row), and that should test the San Antonio Spurs, who 'won' the regular season battle 2-1 - although each game was decided by 5 points or less.
PREDICTION: Oh, and it's going to be fun at the Staples Centre when the Lakers play there because we'll see lots of Jack Nicholson, Adam Sandler, and other showbiz stars on the sidelines. But will the show on the court be as great? We think not. Spurs in 6.
No. 3 Denver vs No. 6 Golden State
Dear Denver, if you can't handle Stephen Curry you're going to have problems. You see, Curry beat Ray Allen's three-point record by blasting his 270th on Wednesday night, and Denver - who give up 101.1 points per game - will be worrying. Yes, we know that Denver's the No.3 seed - and bookies' favourite - but they'll have to look after the Warriors to stay that way. For Denver, watch out for point guard Ty Lawson, who's been the Nuggets star all season long, leading the team in both points and assists. Denver average over 106 points per game, and are also the second-best rebounding team in the nation. Golden State, by the way, average 101. Denver won the regular season series 3-1. This is going to be fun.
PREDICTION: We're going with the upset here, so we calling for Golden State by 7 in a high-scoring, not-exactly-defensively-orientated match-up.
No.4 LA Clippers vs No. 5 Memphis
This match-up was so fun in 2012 that the two teams have decided to battle against each other for supremacy one more time. This time, though, the pressure's going to be on the Clippers. The Grizzlies - who lost 2012 match-up in seven games - will be ready for Blake Griffin and Chris Paul, who can cause any defence a nightmare. The Grizzlies have the best defence points-wise in the league, keeping teams to under 90 per game. That's frighteningly good on their side. It'll be fun to watch their best rebounder Zach Randolph go against Zach Randolph in the rebounding department, and see how they can limit Chris Paul - in the way that they didn't manage to do in four of the regular season games, which they lost 3-1. The only problem for Memphis is that the Grizzlies don't have a bona fide scorer after trading Rudy Gay away. Randolph had better come through as he has during the regular season, scoring 15.4 points per game.
PREDICTION: This match-up's going to be all about power - and we can see the series going 7 games. Half of me thinks Memphis' defence will pull through, but half of me thinks that Griffin and Paul will be the winner. I'm going with the Clippers in 7, in one of the best series of the season.