Florida Gulf University have lit up March Madness, says Alex Ferguson
Alex Ferguson explains how Florida Gulf Coast won an arsenal of fans at the start of March Madness.
Last Updated: 27/03/13 5:12pm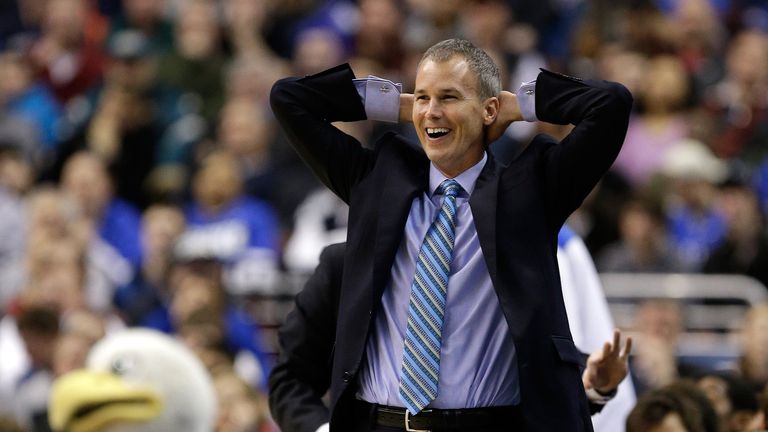 An exhausted Alex Ferguson has more on what was a wild weekend for basketball...
"Florida Gulf Coast University, who's that?" was what we said before the No.15 seed Eagles played No.2 seed Georgetown in Philadelphia. We didn't know where it was, apart from the fact that it was in Florida and we sure as heck didn't know that they could play some basketball.
We'd tipped them to lose 'comfortably' to the Hoyas, and so had everybody else. But we did a bit of research. We found out that the college version of the Harlem Globetrotters hailed from Fort Myers, Florida.
We also found out that the university has about 11,000 undergraduates in it, and not all the subjects are 'Beach Drawing' or 'Teeth Whitening', and that there's a beach ON CAMPUS, which immediately made us feel like we wanted to be a mature student.
The Sunday of March Madness belonged to #FGCU (as they became known on Twitter). They needed to electrify us all and knock off No.7 San Diego State. They had become the standard bearer for the tournament, but for college basketball and maybe the American sporting dream.
But San Diego State were a useful team. San Diego State had Jamaal Franklin, who put up 21 points in the Aztecs win over No.10 Oklahoma. Franklin is about to make a lot of money in the NBA.
Sky Bet didn't think the Eagles would fly, making the Aztecs 2/7 favourites, giving Florida Gulf Coast an 11/4 outshout. Well, 40 minutes later, San Diego State weren't run off the court, in a game that was so one-sided it saw FGCU up by 19 at one stage.
But unlike a lot of teams who won a couple of games, the Eagles didn't win with boring defence and a bit of free throw shooting. No, sir. They won by playing a game like it was an episode of StreetBall, throwing the ball up for dunks and earning themselves the name: "Dunk City". "So, white men CAN jump," commented someone on Twitter, showing his age.
Imagination
But they didn't only beat the Aztecs through the air. They beat them by stealing the ball - 13 times. They beat them by hitting 33 of 59 of their field goals, and seven of 18 from three-point range.
Sure, Franklin dropped 20. But five of the Eagles had days of scoring over double figures, so a sensational performance from a real team player will get ignored. That's what happens to people that lose, after all.
And now history's been made and they've become the first 15th seed EVER to make the last 16 of the NCAA Tournament, everyone's talking about FGCU. They've caught a nation's imagination by playing with a loose manner, with a smile on their faces, and looking pleased to be playing basketball.
Their coach, Andy Enfield, has also caught the nation's imagination. After all, he's married to an ex-model, who did work for Elle, Vogue and Victoria's Secret. Before basketball, he made a little money investing in a technology company before deciding to that the cubicle life was not for him.
Money? Check. Hot wife? Check. Coaching a sporting team becomes a National phenomenon? Check. If Andy Enfield ISN'T writing 'Dunk City: How I Dropped Work And Tons More In Return' by Christmas-time, we'll be shocked.
But what happens to the Eagles now? They play No.3-ranked Florida, who have suffocated their opposition in such a way that at the end of the day, we were surprised to see them still breathing. They controlled the pace, the passing... everything.
The Gators' margin of victory was 32 and 14 points. The 14 points - the game against Minnesota - was only that low because the Gators hit second gear for five minutes and allowed the Gophers to at least make their clash somewhat interesting.
Billy Donovan's got a machine together that should have won the SEC Championship, but didn't, losing to Ole Miss and its resident loudmouth, Marshall Henderson (the last laugh is with the Gators, because Henderson and Ole Miss lost to LaSalle by two points in a heartbreaker, ending with the player giving the crowd the 'universal salute').
Florida Gulf Coast's style of play may worry a San Diego State, but will it worry Florida, especially after they've had five days to practice and view film?
Outgunned
But this hasn't been a great few days of basketball just because of Florida Gulf Coast. There was madness all over the shop. There was No.14 Harvard knocking off No.3 New Mexico, meaning that on Thursday night, Cinderella's education was about $52,000, and was the source of a lot of abuse from the fanboys wanting, who had lost a lot of money on betting on that perfect bracket.
There was No.13 LaSalle, who outgunned No.4 Kansas State. No.10 Iowa State shot like a dream from three-point range and destroyed No.7 Notre Dame that was outgunned by Iowa State.
There was that Marshall Henderson character, who helped Ole Miss gun down No.5 Wisconsin with a stunning second half scoring volley - an effort that suddenly made him the talking point of the tournament (until the Eagles took over the next day!).
And then there was 'heart attack Marquette', who came from 10 points down with 1.30 seconds left to beat No.14 Davidson. And there was No.12 California and Oregon, who took care of UNLV and Oklahoma State respectively.
On the Saturday and Sunday, both No.1 Indiana and No.2 Ohio State could easily have lost to No.9 Temple and Iowa State, with both finding something - including a controversial call - to win, while No.2 Miami found just enough in the tank to stop No.7 Illinois, and Oregon again perked up, this time dealing heartily with No. 4 St Louis.
North Carolina looked like they might upset No.1 Kansas, until KU grew a brain and beat the No.9 Tar Heels comfortably. I'm sure the Tar Heels will be comforted to know they earned a trader friend of this writer $600 by being up convincingly at half-time.
But the OTHER upset of the weekend had to belong to Wichita State Shockers, which electrocuted the hopes of No.1 Gonzaga by beating the 'Zags 76-70 in a nail-biter. We can't wait for their game with LaSalle.
This long Easter weekend promises to be madness, starting from Thursday. Indiana plays Syracuse, Miami plays Marquette, Ohio State plays Arizona, and as we mentioned earlier, Wichita State plays LaSalle in the battle that guarantees a small school a spot in the 'Elite Eight'.
On Friday, the games are even bigger. Kansas plays Michigan, Duke plays Michigan State, Louisville plays Oregon, and then there's that small game starring that School That No-one Heard Of Until Friday playing The Team That Everyone Hopes Will Be Cinderella's Third Victim (or FGCU vs Florida).
I know who America will be supporting in the final one.