Alex Ferguson previews basketball's iconic March Madness series
If you have no idea who will prevail in March Madness, you're not alone. Alex Ferguson has more...
Last Updated: 19/03/13 6:28pm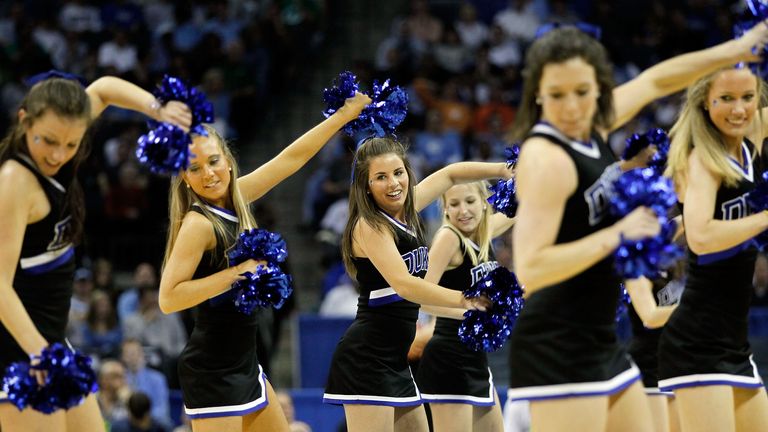 It's like FA Cup third round day, but all played on Thursday and Friday, and things don't let up, because on Saturday and Sunday it's the second round. It's absolute 'Madness'.
Our 'mad' American sport blogger Alex Ferguson, who's currently mired in a world of trying to decide who's going to beat who, has more...
Ever since Sunday, I've been as mad as a March hare. So have hundreds of millions like-minded people. That's because on Sunday, the NCAA put out the seedings and match-ups for the 2013 NCAA Tournament, which will see some of the biggest schools in college basketball pitted against the small fries.
Suddenly those who are experts on Duke basketball start preaching to you about why X State will run X team 'out of the court', while talking down the prospects of No.1 picks.
Why are they experts? Simple. Because at this time of year, hundreds of thousands of people decide to get involved in the 'bracket', which is their predictions from the first game to who will win outright.
Sometimes a little money goes with it, so you and your buddies throw a bit into a pool. Everyone's an expert, and everyone wants to make sure they come out on top.
And because wannabe winners are braggarts (generally), they'll never use any reverse psychology. Sometimes the bets are for money. Other times it's for simple bragging rights. Sometimes the winner takes all, with points for second and third place.
In 2001, yours truly was part of a student betting pool at Concordia University, where I rode Duke all the way to a March Madness victory and some spoils (being a student, it wasn't a lot of money, I might add!).
To use baseball terms, I have struck out every time since then....although I have made a friend of mine buy me dinner after he came bottom of the 2011 pool on a 'loser buys dinner' bet! But although everyone loves to win their bracket and pool, there's always a romantic who wants the smaller schools to be the wrecking ball that has us on their feet.
The wrecking ball is referred to ad infinitum as Cinderella, and most recently, she's played for Butler (twice), Virginia Commonwealth and George Mason. She's come close, but she hasn't won a title since for years.
Come on Cindy - your glass slipper is getting muddied. And we don't like muddied shoes. And sometimes a Cinderella can become a 'Big Dog', like Gonzaga, who were virtually unheard of until about 1999 when they boomed, and haven't really stopped doing so. Now, they are a No.1 seed and a lot of people's pick to stumble and fall early.
This year, the goliaths of the tournament are pretty much the usual suspects: Louisville, Duke, Indiana, Kansas and Florida (and Gonzaga). Last year's winner Kentucky were so poor that they didn't make the 'Madness' this year.
This was despite having March Hare status, when it seemed every week the No.1 team in the nation was being embarrassed when it went on the road. Kentucky was some people's pick to repeat. Now, the best it can do is win the National Invitational Tournament (NIT), and be the 65th best team in the nation.
Bite
But there is a good story from the South - Miami. This year, the Hurricanes were expected to do very little - predicted to finish fifth in the ACC, but nothing exceptional. Well, the Hurricanes proved to be something else, winning the ACC title, destroying Duke, and finishing the season 27-6.
Now, they are everyone's second team. Frankly, I'm picking Louisville to win it all. After all, I'm following everyone else on this one (it's college football where I vaguely know what I'm talking about!).
But just when you think that everything's going to be okay in your bracket, a surprise always comes to bite you. The team that you 'had' going all the way to the final decides only to play well in the second half of a game, but by then they are 20 points down - and this isn't football.
Or your Cinderella doesn't become Cinderella. Or the 12th seed to knock off the fifth seed (apparently this seems to nearly always happen in March Madness) 'logic' simply doesn't come off, and you're stuck feeling stupid.
Or that terrible team that the experts tell you could 'never' run with the likes of Big State do run, and in fact sprint, taking you and thousands of others with it. And while the competitive side within you cracks your head against the wall and screams "Why? Why? Why?" the romantic in you smiles a bit. After all, we all love the upset. Unless we've put money on it.
Speaking of money, on the opening weekend of the March Madness tournament, Las Vegas becomes the Mecca for gamblers. Hotels are sold out, sports books are packed, and those whose spouses are going on the pilgrimage pray to any god they know that George isn't going to bet the house on a five versus 12 match-up.
And it's not just sports books in Vegas where the money rolls... it's New York, too. "When I was in Boston, guys would pick a team to win, and it would be based on a points-system. We'd bet a buck a point. If your team lost early, that could cost you 20 bucks", a trader told me this week.
By 'buck', he means $1,000. So a big upset can be big money. The trader this year's 'just' putting in a 'buck' per bracket with his other hedge-fund buddies. With my friend's past of wagering on Notre Dame beating the spread against Alabama in the National Championship Game for football, I'd say his buddies are pretty safe with his cash.
Invade
What's going to drive us all crazy is that this season - as we've talked about in the case of No.1 seeds has been that it's going to be so hard to pick. No good team can seem to travel and win.
We've seen crazy, celebratory court invasions from students week in, week out - to the point where people were asking on Twitter - seemingly quite seriously: "When should you invade the court?"
The answer was seemingly simple - every time a good team was shot down by a mediocre one. As Calvin Earl, a basketball fanatic based in North Carolina told Sky Sports today: "Any team can be beaten this year", while assuring us that North Carolina (his team) should be picked over Villanova in the first round, while praying to God that Kansas has forgotten about the Tar Heels in the second.
And if you think America's work ethic trundles on while the tournament continues, you've got another thing coming. Even on the CBS Sports March Madness website, there's a 'boss button' so you can press it and pretend you're filling in an Excel Spreadsheet instead of watching the big game.
America goes from big-time productivity to big-time midday, sports fans. A study by Challenger, Gray and Christmas says that $134m is lost in wages as around three million employees spend one-three hours "following the basketball games instead of working".
So bosses, why not make it a work vacation, and simply send everyone home early on Thursday for a long weekend? After all, March Madness might as well be a National Holiday.