Gold standard
Golden State can boost their NBA play-off hopes by edging Minnesota, says Alex Ferguson.
Last Updated: 22/02/13 2:35pm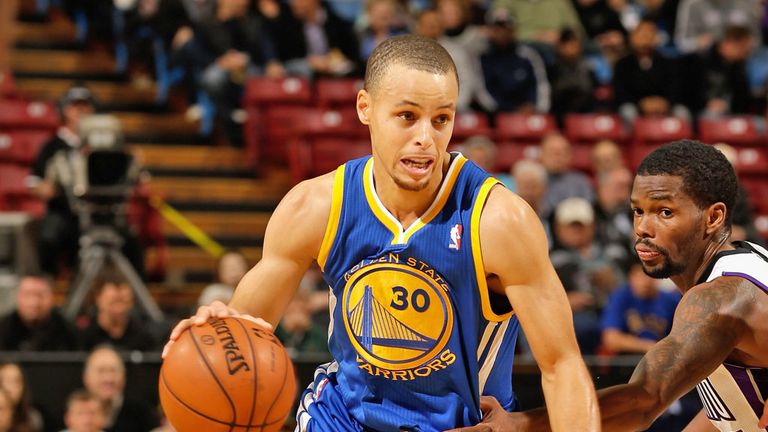 It's already been a spark-filled start to the second half of the NBA season, with the New York Knicks getting destroyed at Indiana, and on the other side, the San Antonio Spurs continuing their relentless drive to be the best team in the West.
The Miami Heat pulled off some amazing fourth-quarter magic by coming from a double-digit deficit to win by 13 and and LeBron James had eight assists in the fourth quarter alone.
Anyway, after an eventful All-Star Game, Sky Sports is back with the first game of the 'money half' of the season, which pitches the Golden State Warriors against the Minnesota Timberwolves.
Alex Ferguson gives you the lowdown...
WHY YOU SHOULD WATCH
This is an important game for both Golden State and Minnesota.
Golden State have to win to keep some sort of pressure on the LA Clippers in the Pacific Division of the West, while they also will want to win to keep the pressure OFF themselves in the battle for the last three play-off spots, which features the Warriors, Houston, Utah, and - if they can get a run together - LA.
LA plays earlier against Dallas and if the Lakers can win, they can start breathing down Golden State's neck again. For Minnesota, though, it's really a chance to reignite their season.
I'll be honest, it hasn't been a great one for the Timberwolves, who have been mediocre at home (13-13) and horrific on the road (7-18). The friendly confines of the Target Centre should present quite a problem for the Warriors, who have a losing record (14-16) on the road, too.
It is interesting to note how battle-weary both teams will be after trips to play-off contenders; Golden State have a daunting trip to San Antonio on Friday, while Minnesota face Oklahoma City on the same night.
WHAT PLAYERS SHOULD YOU WATCH?
Golden State's Stephen Curry is an incredible talent, shooting brilliantly from three-point range and has one of the best free throw records in the league. He leads the Warriors in points, assists and steals.
Watch out for David Lee, who's also a strong rebounder, and Klay Thompson, who had a great outing against Phoenix and will be looking to follow that up against Minnesota.
And as for the Timberwolves, Ricky Rubio is the man to watch with the continuing injury problems of Brandon Roy and Kevin Love.
But he won't have to take everything on himself; Nikola Pekovic proved he can do some damage, when he amassed 27 points and 17 rebounds in Wednesday's win against Philadelphia.
FERGIE'S FORECAST: Golden State by seven points