Turning up the Heat
Alex Ferguson reflects on the NBA season so far and says Miami Heat have impressed early on...
Last Updated: 14/11/12 5:21pm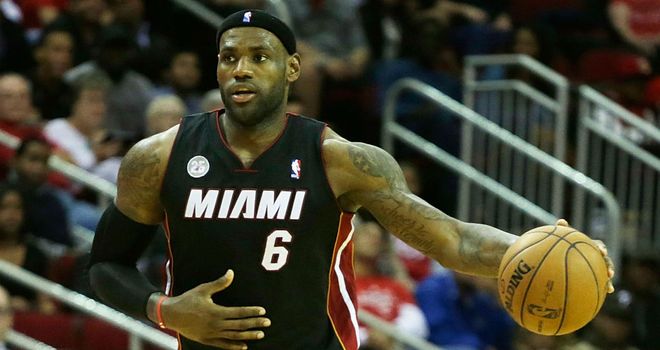 It's been a strange start to the NBA season.
Where there was joy and optimism in Los Angeles, there is more drama than a Brangelina movie. Where there was meant to be anger, rage and discord in New York after the decision to get rid of Jeremy Lin, there is joy. And where there is Miami, there is still LeBron James. And a lot of points.
Here's my 10 things to watch out for during the rest of the NBA season....
1) Will the Lakers finally fine some accord?
This was meant to be one of the most exciting seasons for the Los Angeles Lakers since the Shaq and Kobe show. Dwight Howard had arrived from Orlando, Steve Nash - still one of the game's better players (although in the twilight of his career) had come in from Phoenix, and the team looked like a team. Then, Nash got injured, the Lakers started the season with four losses in five games, and promptly fired Coach Mike Brown, installing Mike D'Antoni - well known for his fast-paced offenses in Phoenix - instead. Kobe Bryant isn't said to be impressed, having asked for the return of Phil Jackson. The Lakers are 3-5 now, but how long will D'Antoni last if Bryant doesn't want him as coach? This should be fun. Howard's averaging 19 points per game, by the way.
2) What the heck is happening in New York?
I mean, 'what the heck is happening in New York?' in a good way! The New York Knicks have won its first five straight games, which has been great for the city bearing in mind the strife the place has had in the midst of Superstorm Sandy. Carmelo Anthony, J.R. Smith and Raymond Felton are both averaging double-digit points, and Anthony and Ronnie Brewer both have over 20 boards for the season. Everything seems to be clicking. Jeremy Who?
And on the other side in Brooklyn, the newly-moved Nets (New Jersey moved up to Brooklyn in the off-season), are 4-2 and not looking bad at all, either.
3) How often is Miami going to be beaten this year?
It's a long season, so Miami's going to lose a few games. It's the law of averages. Having said that, with LeBron James, Dwayne Wade, Chris Bosh and newly-added three-point god Ray Allen (a virtual All-Star team in itself) all on the team, every team they come against are going to find life really, really tough. Right now, the Heat is on, starting the season having lost only two of its first eight games, and their best players playing well. And the bench is pretty tidy too. As much as people might hate 'em, these guys are going to be fun to watch.
4) Lin and 'The Beard' in Houston. How will that work out?
James Harden rocketed into Houston from Oklahoma City on a massive trade, while Jeremy Lin was a free agent brought in from New York. While Harden has had a red-hot start, averaging nearly 26 points per game, Lin's averaged 12 points and leads the team with around 6 assists per game. But the 3-4 record at the moment (which isn't bad at this time of the year), has struggled against good rebounding sides so far. However, people can still dream.
5) And an Oklahoma City team with Harden...
...Is still pretty good. Armed with a 6-2 record to start the season, the notion that Oklahoma City would really, really miss James Harden's three-point shooting off the bench simply hasn't been proven. They are virtually imperious at home behind their loud, college basketball-esque support, and Kevin Durant, Russell Westbrook, Kevin Martin and Serge Ibaka are all frightening prospects. This is a very good team even without the beard, y'all!
6) Boring, boring San Antonio?
Winning or losing, Tim Duncan is virtually expressionless on the basketball court. Some people might call him boring. For others, he's steady and excellent to go with it. Whatever happens, he's a pain in the neck to try and defend (as he has been for years), and he's leading the team - which has won seven out of eight at the moment - in points. The scary bit for the opposition is that although Tony Parker's started the season hot, Stephen Jackson and Manu Ginobili really haven't. And if they do, this is not good news for the rest of the NBA's Southwest division. Not good news at all.
7) Who'll be the NBA's Most Valuable Player when all is said and done?
Some TV analysts have been droning on about how LeBron James is the 'next Michael Jordan', but he's actually a different player from 'His Airness'. Having said that, he's still favourite to be the League's MVP - as he was last year - particularly if he leads the Heat to the Promised Land this year. And if Carmelo Anthony and the Knicks continue their success who could count him out? Not me!
8) How's Anthony Davis settling in at New Orleans?
If you missed him, Anthony Davis was one of the best players college basketball has ever seen last year. Armed with great defensive attributes, great speed and an incredible monobrow, Davis was picked No.1 in the NBA draft to absolutely no-one's surprise. In just three games (he picked up a concussion in Game 2 of the season), Davis has averaged 17 points and five rebounds for the Hornets, who have started the season 3-2. We think he's settling in nicely, and New Orleans will be praying that he stays healthy and leads them to the heaven of a play-off place.
9) Michael Jordan: What's happened?
Michael Jordan is one of those people that you wish had just finished up being a player, and left the game, cashing in his hundreds of millions. He would have been happy sitting there watching and playing golf, you thought. Maybe he would have done the odd Nike advert for his Air Jordan range, made some more money, but kept away from the limelight. But he couldn't do that. He decided to return to basketball in an owner's capacity, fully taking over the Charlotte Bobcats in 2010 and becoming the head of basketball operations. Since the arrival of his 'Airness', the Bobcats have had one good season and then two atrocious ones. This season they've started the season an even 3-3, but don't be surprised if the Bobcats end the season as one of the NBA's worst teams.
10) Detroit and Washington: Who's worse?
Detroit have won no games (and lost eight straight) and Washington have won no games (and lost six straight). Both teams are just dreadful. I'm going to go for Detroit - simply because Washington's taken one of the games to overtime.