NBA: LaMarcus Aldridge shines as Thunder's steak ended by Trail Blazers
Last Updated: 05/12/13 7:25am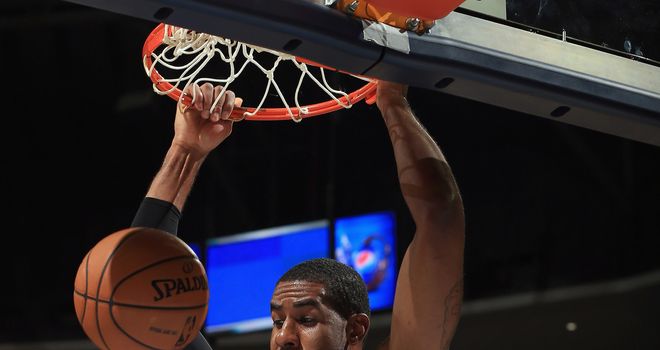 LaMarcus Aldridge had 38 points and 13 rebounds to help the Trail Blazers see off the Thunder
LaMarcus Aldridge's big day ensured the Portland Trail Blazers beat Oklahoma City 111-104 to end the Thunder's eight-game winning streak.
Aldridge had 38 points and 13 rebounds to help the Blazers to their 14th win in their last 15 games, improving their record to a league-best 16-3. Kevin Durant paced the Thunder with 14 points.
Kyle Corver equalled an NBA record by getting a three-pointer for the 89th straight game in the Atlanta Hawks' 107-97 win over the Los Angeles Clippers.
Wednesday's NBA results:
Hawks 107 Clippers 97
Cavaliers 98 Nuggets 88
Rockets 88 Suns 97
Bucks 98 Pistons 105
Hornets 97 Mavericks 100
Trail Blazers 111 Thunder 104
Jazz 86 Pacers 95
PPD Timberwolves v Spurs
Corver, who had a season-high 23 points in total, tied a mark set by Dana Barros back in 1996.
Kyrie Irving scored 23 points while Tristan Thompson added 17 points and 21 rebounds as the Cleveland Cavaliers overcame the Denver Nuggets 107-97.
The Phoenix Suns beat the Houston Rockets 97-88 and the Indiana Pacers were 95-86 winners over the Utah Jazz, while there also wins for the Dallas Mavericks and the Detroit Pistons.
The game between the San Antonio Spurs and the Minnesota Timberwolves, which was supposed to be played in Mexico City, was postponed because of smoky conditions in the arena caused by a fire in a generator room.