NBA: Heat on brink
Heat can clinch the series with victiory on Thursday
Last Updated: 20/06/12 7:29am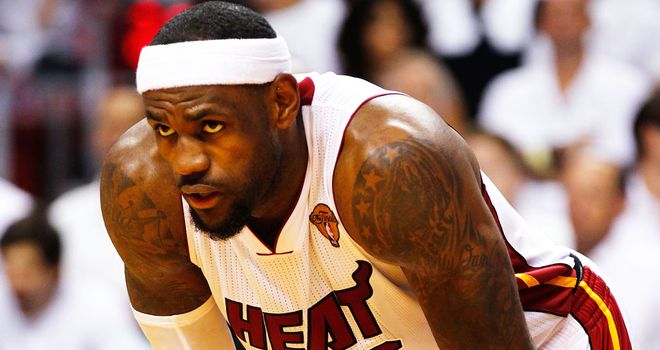 LeBron James: 26 points for Miami
LeBron James notched 26 points as the Miami Heat beat the Oklahoma City Thunder 102-96 in the best-of-seven NBA finals to open up a 3-1 lead.
Dwyane Wade and Mario Chalmers each scored 25 points each for the home side in Florida.
The Thunder's score was built around a stunning 43 points from Russell Westbrook, though the guard's foolish late personal foul handed Chalmers the chance to see his side home from the free-throw line. Kevin Durant added 28 points.
Oklahoma dominated the first quarter, opening up a 33-19 lead, but Miami roared back in the second to go into the half-time break only three points in arrears at 49-46.
Peaked
Wade scored four points to put the Heat ahead at 50-49 four minutes into the third quarter and from 60-60 they pulled away into a lead which peaked at seven points.
Leading 92-90, they had a scare when key man James limped off with cramp and the Thunder regained the lead for the first time in over 18 minutes at 94-92, but James' return then heralded a 7-0 run for his side.
Westbrook cut the gap to three but an underarm lay-up by Chalmers took his side into three figures, and into a two-possession lead with 44.6 seconds remaining.
The Heat have their first chance to clinch the series on Thursday night in game five.