MLB: Boston Red Sox move clear at the top of American League East
Last Updated: 16/09/13 9:23am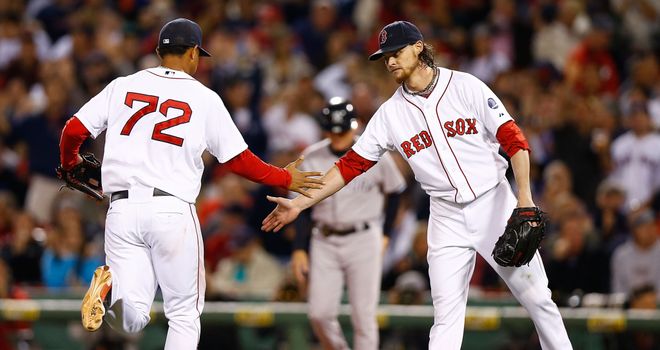 Clay Buchholz (r) congratulates Boston Red Sox team-mate Xander Bogaerts
The Boston Red Sox beat New York Yankees 9-2 at Fenway Park to eliminate the reigning champions from the American League East race.
Daniel Nava went 4-for-5 with a run scored and an RBI as the Red Sox sealed a three-game sweep and opened up an advantage of 9 1/2 games over the second-placed Tampa Bay Rays.
The Detroit Tigers moved a step closer to clinching the AL Central title with a 3-2 win over the Kansas City Royals at Comerica Park. Alex Avila drilled the go-ahead solo shot - his second homer of the day - in the eighth frame.
Matt Carson, Nick Swisher and Asdrubal Cabrera all went deep as the Cleveland Indians trounced the Chicago White Sox 7-1 to get themselves only a half-game behind Texas and Tampa Bay for top spot in the AL wild-card standings.
Josh Donaldson, Chris Young and Josh Reddick homered as Oakland completed a three-game sweep of Texas with a 5-1 victory which handed the Athletics a 6 1/2-game cushion over the Rangers atop the AL West, while the Minnesota Twins - spurred by Josmil Pinto's tie-breaking three-run homer - rallied for a 6-4 success against Tampa Bay.
Toppled
Danny Valencia's two-run double lifted the Baltimore Orioles to a 3-1 win over the Toronto Blue Jays and Jerome Williams pitched seven strong innings in the Los Angeles Angels' 2-1 triumph over the Houston Astros.
The St Louis Cardinals and the Pittsburgh Pirates remained tied for the lead in the National League Central after both posted wins.
Yadier Molina went 4-for-5 with a solo homer as the Cardinals toppled the Seattle Mariners 12-1 , while Justin Morneau's go-ahead single in the eighth helped the Pirates edge the Chicago Cubs 3-2.
The NL West-leading Los Angeles Dodgers went down 4-3 to the San Francisco Giants, pinch-hitter Brett Pill's tie-breaking solo shot in the eighth inning proving decisive.
Burch Smith allowing just three hits in seven innings as the San Diego Padres overcame the NL East-leading Atlanta Braves 4-0 in their series finale.
The Washington Nationals stayed in contention for the second wild-card spot with an 11-2 success against the Philadelphia Phillies, rookie Travis d'Arnaud hit a game-winning single in the 12th inning to hand the New York Mets a 1-0 victory over the Miami Marlins, the Milwaukee Brewers edged the Cincinnati Reds 6-5 and the Arizona Diamondbacks prevailed 8-2 against the Colorado Rockies.