Sky Sports MLB preview: 10 to follow
Last Updated: 27/03/13 5:42pm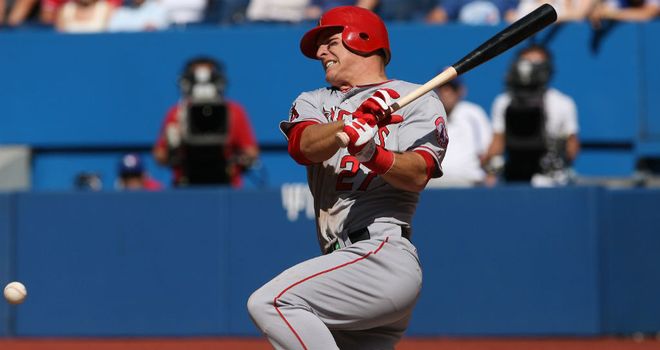 Mike Trout: hit 30 home runs and stole 49 bases last season
The second part of Sky Sports' preview to the 2013 baseball season looks at 10 of the brightest prospects in the game
Mike Trout (LA Angels) - Writing this last year, Trout would have been the No 1 prospect. Now, after just one full season in the major leagues, he is quite possibly the No 1 player. The outfielder made an incredible impact in his 139 games in 2012, hitting 30 home runs and stealing 49 bases. With a little added weight over the off-season you can expect a little less speed, but every chance of a few extra long bombs - if he keeps his batting average above .300 those are superstar calibre numbers.
Bryce Harper (Washington Nationals) - Harper played the same number of games as Trout last season and hit 22 home runs. As long as his bruised hand doesn't linger into the regular season those numbers can only rise. He has a long swing and is prone to striking out in ugly fashion at times but Harper is only 20 and is going to be a major power hitter for many years to come.
Anthony Rizzo (Chicago Cubs) - Slightly too old at 23 to be a prospect, this season is Rizzo's chance to shine. He played 87 games last season and hit 15 home runs. He'll be bang in the middle of the Cubs batting order this year and that number should at least double in 2013.
Jurickson Profar (Texas Rangers) - Easily the most prized prospect in baseball coming into 2013, Profar is a smooth fielding shortstop who has been tracked since his days in Little League nearly 10 years ago and he is almost certain to be a franchise player inside the next three years.
Oscar Taveras (St Louis Cardinals) - The only one of these five batters yet to enjoy a major league batting appearance, Taveras is a hugely exciting outfield prospect. He's already been sent to the minors to start the 2013 season but he'll be up later, September for sure, and could well be rookie of the year in 2014.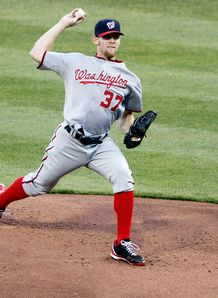 Stephen Strasburg: funky-throwing right-hander
Stephen Strasburg (Washington Nationals) - Strasburg's arm will probably decide whether the Nationals go further than last year in the play-offs. By then Strasburg's season had already come to an end as he was on an innings count that ruled him out of the post-season. He struck out 197 batters in only 159 1/3 innings and the funky-throwing right-hander could be heading for the recent record books.
Zack Greinke (LA Dodgers) - Huge pressure on Greinke this season -mainly because of the $147m deal he signed with the Dodgers over the winter. Greinke is more hittable than some of the other top-10 starters but he has an undeniable winning habit and doesn't offer up too many free passes.
Aroldis Chapman (Cincinnati Reds) - Chapman was tabbed to move into the Reds' rotation this season, but confirmation came just before the season that he was staying in his role as closer. Chapman is one of the few pitchers around who can throw his fastball regularly over 100mph. He struck out 122 batters in only 71 2/3 innings in 2012 and closed out 38 games for the NL Central champions. Expect more of the same, and possibly even better.
Bruce Rondon (Detroit Tigers) - Chapman may have a big rival in the speed gun stakes this season as Venezuelan pitcher Rondon readies himself to take over as Detroit's closer. He brought himself to wider attention in the 2012 Futures Game during All-Star Weekend. He struck out two hitters on four fastballs, all of which registered over 100mph on the clock - a blur for most batters and almost impossible to hit if he can control it.
Dylan Bundy (Baltimore Orioles) - Bundy has been earmarked as the best pitching prospect in the minor leagues and there is no doubt he will be pitching in the big leagues sooner rather than later. He will be one of few starting pitchers able to hit 100mph with his fastball but also has a lovely curveball and cutter in his armoury. Future Cy Young winner.