MLB: Atlanta Braves squared their best-of-five National League series
Last Updated: 05/10/13 10:42am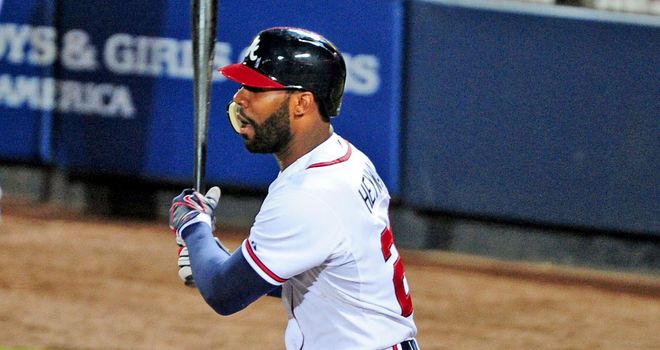 Jason Heyward: Helped Atlanta to vital recovery
Atlanta Braves scored two runs in the bottom of the seventh inning to beat Los Angeles Dodgers 4-3 and square their National League Division Series at one game each.
After losing the first game of the best-of-five National League division series at home, the Braves were under enormous pressure to get back on level terms and they came through, just.
Atlanta had Jason Heyward's two-run, two-out single, with the bases loaded, to thank for giving the Braves a vital 4-1 cushion.
The Dodgers responded when Hanley Ramirez muscled a two-run home run off David Carpenter in the top of the eighth to make it a one-run game, but they could not add to their score.
Craig Kimbrel closed out for the Braves, though the home fans had to endure some nervous moments.
Dodgers pinch runner Dee Gordon almost stole second base in the final inning but was judged out in a very close call for the second out, before Carl Crawford struck out to end the game.
Braves starting pitcher Mike Minor was credited with the win after throwing 6 1/3 innings, giving up one run on eight hits, while Dodgers starter Zack Greinke went six innings for two runs and four hits.
Elsewhere, Gerrit Cole gave up two hits in six dominant innings and had an RBI in his play-off debut as the Pittsburgh Pirates beat St Louis Cardinals 7-1 to even their at a game apiece in their NL play-off.
Jon Lester gave up a pair of solo homers to Tampa Bay, but Boston Red Sox got the lead back when the Rays fell apart to win 12-2 in the AL division series opener.
And in California, Max Scherzer struck out 11 over seven dominant innings to help give Detroit Tigers a 1-0 lead in their AL division series rematch over Oakland Athletics after a 3-2 triumph.