MLB: Cincinnati Reds sack manager Dusty Baker
Last Updated: 04/10/13 5:20pm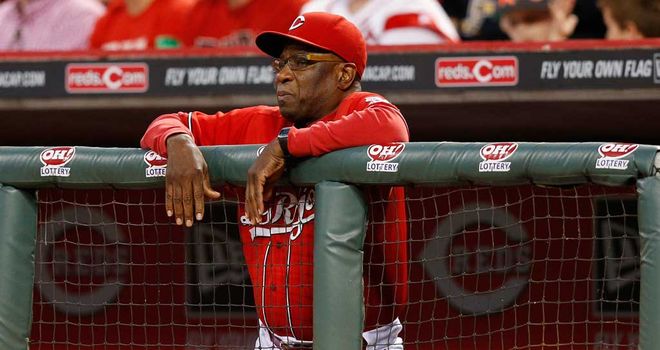 Dusty Baker: Six years in charge at Cincinnati
Cincinnati have announced they have sacked manager Dusty Baker after the Reds were knocked out of this season's play-offs.
The Reds suffered a 6-2 defeat to Pittsburgh on Tuesday in their National League play-off eliminator.
The 64-year-old former San Francisco and Chicago Cubs manager had been with Cincinnati for the last six seasons, and had 12 months remaining on a two-year contract.
He guided the Reds to the post-season in three of the last four years, winning the National League Central Division pennant in 2010 and 2012.
But the team did not make it past the first round of the play-offs, and Reds general manager Walt Jocketty confirmed the decision to part company with Baker.
"This was a very difficult decision to make," said Jocketty. "Dusty played an important role in the recent success of this organization and we thank him for his contributions during his time here.
"We feel a change is necessary, however, if we are to continue to move the organization forward."
Baker, a manager since 1993, ranked second among active managers with a record of 1,671 wins and 1,504 defeats, and he was named manager of the year in 1993, 1997 and 2000 while with the Giants.
But he has never managed a World Series-winning team, although he came close to securing an elusive title in 2002 when the Giants lost to the Los Angeles Angels in a seven-game thriller.
Baker had a record of 509-463 with the Reds, going 91-71 in 2010 to guide the team into the play-offs for the first time in 15 years.