MLB: Record-breaking St Louis Cardinals rout Pittsburgh Pirates
Last Updated: 04/10/13 5:43am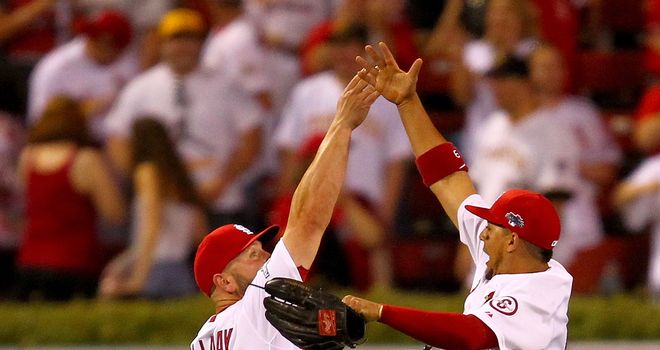 St Louis Cardinals duo Matt Holliday and Jon Jay celebrate
A remarkable seven-run third inning saw the St Louis Cardinals crush the Pittsburgh Pirates 9-1 the first game of their National League Division Series.
Pirates starter AJ Burnett threw 37 pitches as the Cardinals became the first National League team to ever to record a seven-run inning in Division Series play.
Carlos Beltran's homer produced the first three runs and when Jon Jay was walked four pitches later it was 4-0. David Freese then hit a two-run single which ended up yielding three thanks to a fielding error by Marlon Byrd.
Pedro Alvarez hit another homer and, while the teams exchanged further runs, the Cardinals claimed an easy win.
The Los Angeles Dodgers also enjoyed a convincing win as they beat the Atlanta Braves 6-1 in game one of their Division Series.
Clayton Kershaw threw 12 strikes, six of them consecutively, as he allowed just three hits in his seven innings.
The Dodgers were two ahead in the fourth when Adrian Gonzalez hit a two-run homer to double the lead.
The teams exchanged runs in the next inning before a Hanley Ramirez double completed the scoring.