MLB: Tampa Bay Rays progress to face Boston Red Sox
Last Updated: 03/10/13 8:34am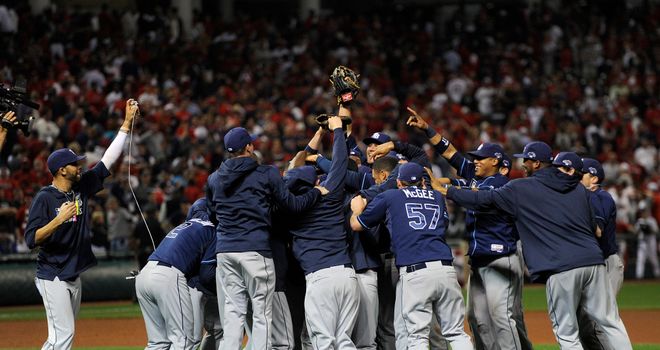 The Tampa Bay Rays celebrate after beating the Cleveland Indians
The Tampa Bay Rays are through to the American League Division Series after beating the Cleveland Indians 4-0 in the wildcard game.
Delmon Young's homer in the third got the Rays on the board and Desmond Jennings hit a two-out double in the fourth to extend the lead to 3-0.
Yunel Escobar then batted in Ben Zobrist in the ninth as the Rays advanced to face the Boston Red Sox.
Alex Cobb pitched into the seventh, giving up eight hits and wriggling out of jams to spoil the party for the locals, who had finished the season with 10 straight wins to claim a wildcard spot after losing 94 games last year.
Cleveland's hard-throwing rookie Danny Salazar retired the first six Rays batters, striking out three, before Young blasted a home run to left on the first pitch of the third inning for a 1-0 Tampa Bay lead.
The Rays added two more runs in the next inning off the 23-year-old Dominican.
Ground singles by James Loney and Evan Longoria set the stage for Jennings, who ripped a double down the third base line into the left-field corner for a 3-0 advantage.
The Indians failed to come up with the key hit with men on base, stranding runners on second and third in both the fourth and fifth innings, and leaving men on first and second in the seventh.
They out-hit the Rays, who added an unearned run in the ninth, 9-8 but left nine men on base in the game.
Tampa Bay will start the best-of-five series against Boston at Fenway Park on Friday with the Detroit Tigers visiting the Oakland Athletics to open the other American League play-off on the same day.