MLB: Pittsburgh Pirates end 21-year wait for post-season victory
Last Updated: 02/10/13 7:15am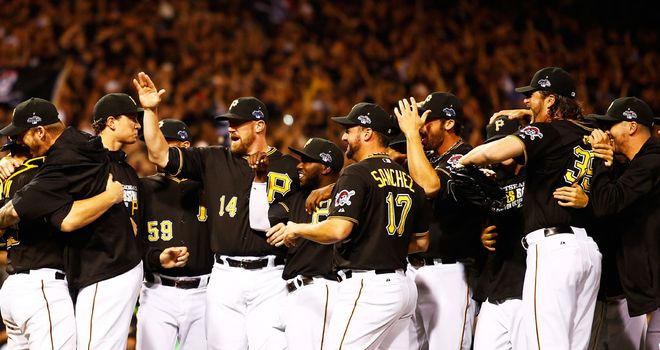 Pittsburgh celebrate first post-season win in 21 years
The Pittsburgh Pirates won a post-season game for the first time in 21 years by beating Cincinnati Reds 6-2 in their do-or-die National League wild card game.
Over 40,000 fans waved their black handkerchiefs in delight as left-hander Francisco Liriano held the Reds to one run on four hits over seven innings.
He was backed by two home runs from catcher Russell Martin in a fine all-round performance against the Reds.
The victory means the Pirates will play in the best-of-five Division Series against the top-seeded NL Central champions St Louis Cardinals, starting on Thursday.
Second-inning home runs by Marlon Byrd and Martin off Reds' starter Johnny Cueto got the Pirates up and running and they added another run in the third on a sacrifice fly by Pedro Alvarez for a 3-0 lead.
Cincinnati hit back in the fourth when Jay Bruce's two-out single to left scored Choo Shin-Soo, who became the first Reds player to reach base when he was hit by a pitch leading off the frame.
But the Pirates extended the lead in their half of the fourth with two more runs after doubles by Starling Marte and Neil Walker that made it 5-1.
And Martin smashed another home run off reliever Logan Ondrusek in the seventh.
Choo got the Reds one run closer with a home run in the eighth but it was not enough as Pittsburgh won in the post-season for the first time since 1992.