MLB: Tampa Bay Rays improve their record to 21-4 for July after beating Diamondbacks
Last Updated: 31/07/13 11:38am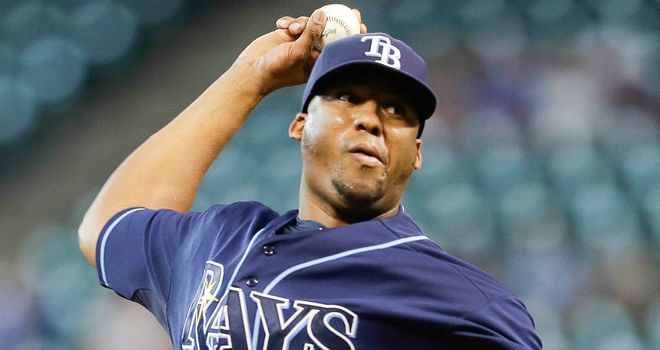 Roberto Hernandez: Pitched his first complete game of the season for Tampa
Tampa Bay produced the best record in July since the 1941 New York Yankees to tighten their grip on the AL East.
Roberto Hernandez pitched his first complete game of the season as the Rays dispatched the Arizona Diamondbacks 5-2 and improve their record to 21-4 for the month which eclipsed the Yankees' 25-4 record.
Hernandez gave up only five hits and one walk, while striking out six and the only runs he gave up came from an Eric Chavez home run in the bottom of the ninth inning.
Boston Red Sox rebounded from their loss against Tampa Bay which knocked them off top spot with an 8-2 mauling of the Seattle Mariners.
Tuesday's MLB results:
Braves 11 Rockies 3
Orioles 4 Astros 3
Red Sox 8 Mariners 2
Cubs 2 Brewers 3
Indians 7 White Sox 4
Tigers 5 Nationals 1
Dodgers 3 Yankees 2
Marlins 2 Mets 4
Twins 2 Royals 7
Athletics 0 Jays 5
Phillies 7 Giants 3
Pirates 6 Cardinals 0
Padres 4 Reds 2
Rays 5 Diamondbacks 2
Rangers 14 Angels 11

Rookie right-hander Brandon Workman struck out nine and allowed just one run in six innings while Dustin Pedroia, Jacoby Ellsbury and Jarrod Saltalamacchia all homered to lead Boston's offense to victory.
Pirates sparkle
Pittsburgh Pirates moved to the top of the NL Central standing thanks to their second victory of a doubleheader against St Louis Cardinals.
Andrew McCutchen hit a two-run home run to spark the Pirates to a 6-0 win after they had won the first game 2-1.
Ryan Raburn and Yan Gomes both had two-run hits in the eighth inning to lead Cleveland Indians to a comeback triumph against Chicago White Sox giving them a sixth successive victory.
Atlanta had a six-run rally in the fourth inning as they claimed their fifth straight win to extend their lead in the NL East to 10 games with an 11-3 success against Colorado Rockies.
Rookie Alex Wood settled down after a shaky start to earn his first major league victory and Freddie Freeman cracked a two home runs in Atlanta's victory.
Carlos Ruiz hit his first homer of the season as the Philadelphia Phillies snapped an eight-game losing streak to defeat San Francisco Giants 7-3.
Ruiz served a 25-game suspension at the beginning of the season for using a banned stimulant.