MLB: Milwaukee Brewers end the Chicago Cubs' three-game win streak
Last Updated: 30/07/13 10:56am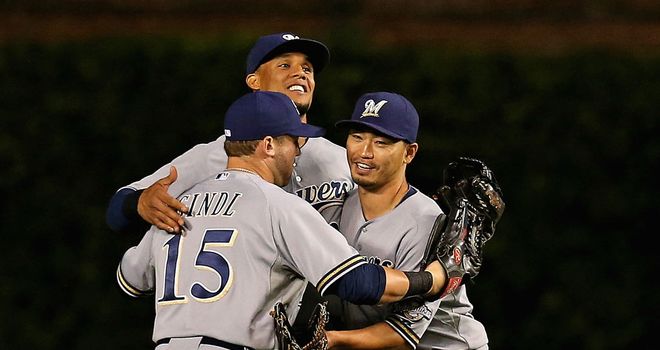 Milwaukee Brewers celebrate their 5-0 victory over the Chicago Cubs on Monday
Chicago Cubs' three-game MLB winning streak was snapped by the NL Central's bottom club, Milwaukee Brewers.
Carlos Gomez broke a scoreless tie in the ninth inning with an RBI single and Jeff Bianchi added a two-run double as the Brewers won 5-0 in the series opener.
St Louis Cardinals were no match for Pittsburgh Pirates, who came through 9-2 - with Francisco Liriano allowing one run over seven dominant innings.
Monday's MLB results:
Braves 9 Rockies 8
Cubs 0 Brewers 5
Indians 3 White Sox 2
Marlins 5 Mets 6
Athletics 9 Blue Jays 4
Pirates 9 Cardinals 2
Padres 2 Reds 1
Rangers 4 Angels 3
Red Sox 1 Bay Rays 2
Cleveland Indians maintained their hot streak, a 3-2 win over Chicago White Sox giving them a fifth successive victory.
Walk off
Andrelton Simmons' walk-off treble in the 10th inning sealed a fourth successive win for Atlanta Braves, 9-8 against Colorado Rockies.
Daniel Murphy drove in three runs as New York Mets snapped a five-game skid with a 6-5 win over Miami Marlins, while Texas Rangers ended their losing stretch at four with a 4-3 defeat of Los Angeles Angels.
Tampa Bay Rays regained pole position in the American League East with a 2-1 defeat of the Boston Red Sox, AJ Griffin allowed just four hits in Oakland Athletics' 9-4 win over Toronto Blue Jays.
Chris Denorfia's two-run, pinch-hit homer off Aroldis Chapman in the bottom of the ninth inning gave San Diego Padres a 2-1 victory over Cincinnati Reds.