MLB: New York Yankees shortstop Derek Jeter marks comeback with home run
Last Updated: 29/07/13 3:49pm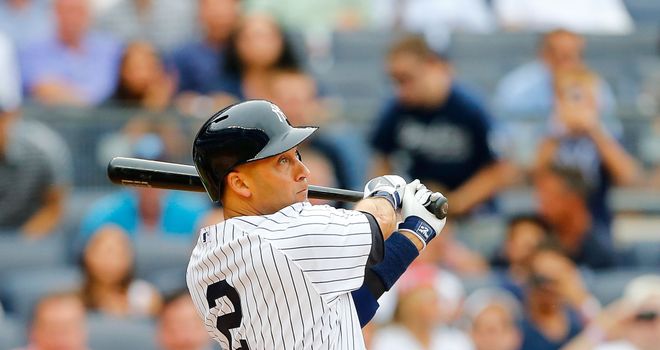 Derek Jeter: New York Yankees shortstop dispatched his first pitch into the stands
Captain Derek Jeter made a dream return to action as he homered from his opening pitch to guide the New York Yankees towards a 6-5 win over the Tampa Bay Rays.
The five-time World Series champion cracked the ball over the wall off Matt Moore in the first inning, and new recruit Alfonso Soriano followed suit in the third.
Jeter's mere presence - he had missed all but one game this season due to injury - had many in the home crowd on their feet, and once he stepped up to the batter's box and unleashed a drive over right centre-field it caused delirious scenes, setting the tone for the game.
The Boston Red Sox were 5-0 winners over the Baltimore Orioles and went half a game ahead of the Rays at the top of the American League East as a result, while the Texas Rangers also drew a blank, slumping 6-0 to the Cleveland Indians.
Alex Gordon blasted a two-run homer in the 12th inning to earn the Kansas City Royals a 4-2 victory over the Chicago White Sox, while in Seattle the Mariners were indebted to Nick Franklin, who slugged a pair of home runs in their 6-4 win over the Minnesota Twins.
Round-up
Elsewhere in the American League, the West-leading Oakland Athletics knocked over the Los Angeles Angeles 10-6, and the Toronto Blue Jays edged the Houston Astros 2-1.
The Detroit Tigers, atop the AL Central, took the out-of-sorts NL East mid-rankers Philadelphia Phillies apart in the inter-league game as Jhonny Peralta cracked a grand slam in a 12-4 win.
In the National League, the West-leading Los Angeles Dodgers and the Cincinnati Reds went for 10 scoreless innings before Yasiel Puig homered to delight the Dodgers Stadium regulars.
The NL East front-runners Atlanta Braves claimed a third straight win over Central pace-setters the St Louis Cardinals, taking a 5-2 win, aided by a home run from Jason Heyward.
The Washington Nationals were the day's high scorers, with Wilson Ramos grabbing a grand slam in a punishing 14-1 win over the New York Mets, while the Miami Marlins edged by the Pittsburgh Pirates 3-2, the Chicago Cubs pipped the San Francisco Giants 2-1 and the San Diego Padres overcame the Arizona Diamondbacks 1-0.
Home runs from Troy Tulowitzki, Corey Dickerson, Michael Cuddyer and Dexter Fowler powered the Colorado Rockies to a 6-5 success at the expense of the Milwaukee Brewers.