MLB: Jose Fernandez strikes out 14 for Miami Marlins
Jose Fernandez continued his superb start to 2014 with 14 strikeouts in a 1-0 win for the Miami Marlins over Atlanta.
Last Updated: 23/04/14 9:29am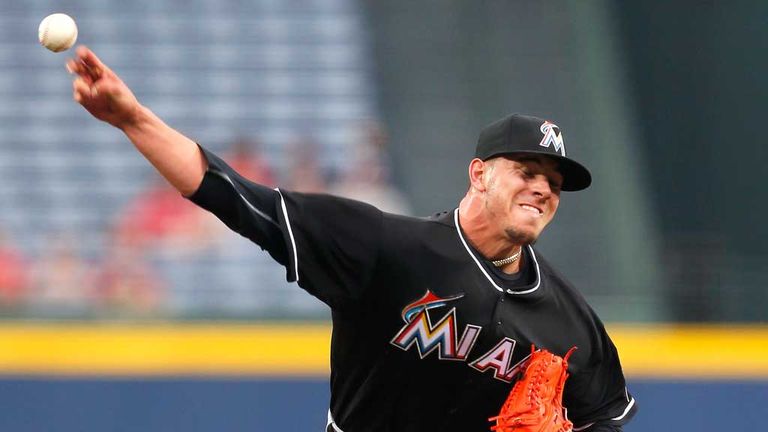 The 21-year-old gave up just three hits in eight innings, lowering his ERA to 1.99 and securing his third win of the fledgling season.
He matched a career-high with the 14 strikeouts and handed over to closer Steve Cishek to complete the shutout with an impressive ninth-inning performance.
That meant an unlucky defeat for Braves pitcher Alex Wood (2-3) who allowed four hits and one run but also struck out a career-high 11 batters in eight innings.
Miami's only run came in the fourth inning when Giancarlo Stanton hit a one-out double and scored on Casey McGehee's single up the middle.
Elsewhere in the National League there was a 3-0 win for the St Louis Cardinals over the New York Mets, with Adam Wainwright impressive on the mound before suffering a minor knee injury.
The Philadelphia Phillies beat the Los Angeles Dodgers 3-2 in 10 innings, Colorado saw off San Francisco 2-1 and the San Diego Padres edged the Milwaukee Brewers 2-1 in 11 innings.
Mike Olt batted in three runs for the Chicago Cubs in a 9-2 win over the Arizona Diamondbacks and the Cincinnati Reds beat the Pittsburgh Pirates 4-1.
In the American League, Jacoby Ellsbury batted in a couple of runs for the New York Yankees on his return to Fenway Park, helping to beat former employers the Boston Red Sox 9-3.
Carlos Beltran hit his fifth home run of the season for the Yankees and MLB rookie Masahiro Tanaka improved his record to 3-0 after giving up just two runs in 7 1/3 innings.
The Texas Rangers beat the Oakland Athletics 5-4 and the Houston Astros benefitted from a superb pitching performance from Collin McHugh in their 5-2 win over the Seattle Mariners.
McHugh struck out a career-best 12 batters on his Astros debut with Jason Castro, Chris Carter and Matt Dominguez hitting home runs as Seattle fell to an eighth successive defeat.
Mike Moustakas hit a home run to lead the Kansas City Royals past the Cleveland Indians 8-2, Miguel Cabrera hit his second homer of the season in Detroit's 8-6 win over the Chicago White Sox.
David Price went the distance for the Tampa Bay Rays in their 7-3 win over the Minnesota Twins and Edwin Encarnacion finally hit his first home run of 2014 as the Toronto Blue Jays thrashed the Baltimore Orioles 9-3.