MLB: Detroit Tigers rally from five runs down to beat the Oakland Athletics
Torii Hunter hit a three-run walk-off homer as Detroit rallied from five runs behind for a 7-6 win over Oakland.
Last Updated: 30/08/13 8:02am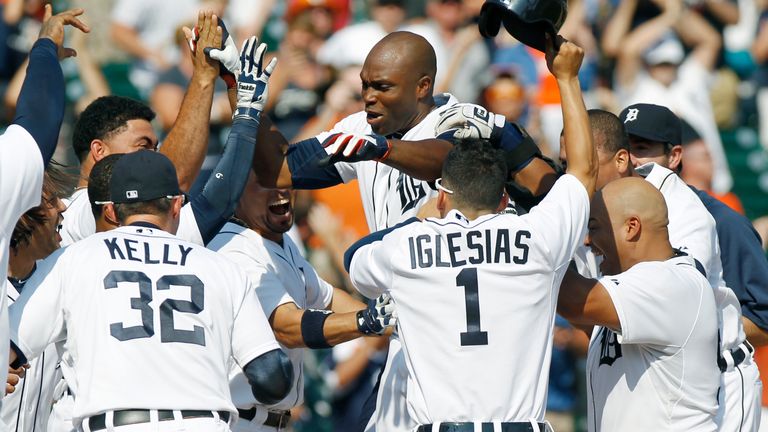 Home runs from Jed Lowrie and Brandon Moss off Max Scherzer had helped put the A's 6-1 ahead by the end of the fifth, before Prince Fielder went yard in the sixth as the Tigers clawed two runs back.
That was how it remained until the bottom of the ninth when Victor Martinez's RBI single and Hunter's bomb completed the turnaround, ensuring Scherzer's record stayed at 19-1 despite allowing six runs in five frames.
Gio Gonzalez threw seven shut-out innings and got support from three home runs as the Washington Nationals beat the Miami Marlins 9-0.
Gonzalez scattered three hits, striking out eight and walking three, before Tanner Roark pitched in with two scoreless frames to complete a four-hit shut-out.
Bryce Harper, Jayson Werth and Ian Desmond led the offence as all three went yard as part of multi-hit games, driving in eight and scoring seven times between them.
15th win
Chris Tillman got his 15th win of the season as the Baltimore Orioles beat the Boston Red Sox 3-1.
Tillman allowed two runs on six hits in seven frames, while Manny Machado's two-run double in the third was the key hit for the Orioles.
Seven scoreless innings from Jason Vargas helped the Los Angeles Angels to a 2-0 win over the Tampa Bay Rays.
Home runs from Nick Franklin and Franklin Gutierrez saw the Seattle Mariners to a 3-2 win over the Houston Astros, while the Atlanta Braves beat the Cleveland Indians 3-1 to complete a series sweep.
There were also wins for the Kansas City Royals, the New York Mets and the Milwaukee Brewers.