MLB: Boston Red Sox rout Los Angeles Dodgers
The Boston Red Sox moved top of the American League East after an 8-1 victory over the Los Angeles Dodgers.
Last Updated: 26/08/13 12:47pm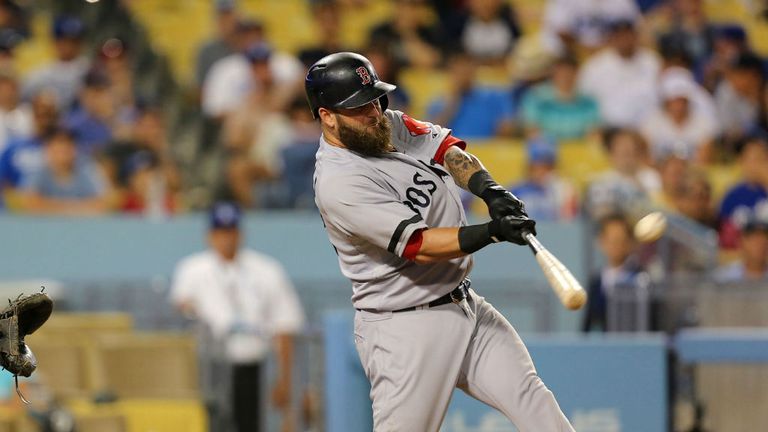 Jarrod Saltalamacchia, Shane Victorino and Mike Napoli hit home runs, while Jake Peavy pitched a complete game, striking out five for his 10th win of the season.
The Red Sox were given the chance to move clear at the top when the Tampa Bay Rays lost 3-2 to the New York Yankees in extra innings.
Curtis Granderson's sacrifice fly in the 11th inning won it for the Yankees as they denied Tampa Bay a sweep.
The battle for the AL wildcards remains intense as Oakland lost 10-3 to closest challengers Baltimore. JJ Hardy, Nick Markakis and Nate McClough all homered in the victory.
The loss prevented Oakland from putting further pressure on the AL West-leading Texas Rangers, who lost 5-2 to a Chicago White Sox team inspired by the Danks brothers.
John held Texas to two runs over six innings while Jordan hit a solo home run.
Snatched
Miguel Cabrera's 42nd home run of the season kept the AL Central-leading Detroit Tigers rolling with an 11-3 victory over the New York Mets, while the Cleveland Indians remain six games back after a 3-1 win over the Minnesota Twins.
Houston closer Chia-Jen Lo blew the save in the ninth inning as the Toronto Blue Jays snatched a 2-1 victory, while Jered Weaver held the Seattle Mariners to one run in eight innings as the Los Angeles Angels won 7-1.
It remains all tied in the National League Central after both the Pittsburgh Pirates and St Louis Cardinals suffered loss.
The Pirates were blanked 4-0 by the San Francisco Giants as Ryan Vogelsong tossed eight scoreless innings, while the Atlanta Braves beat the Cardinals 5-2 behind a strong start from Mike Minor.
The Cincinnati Reds, two and a half games back, failed to take advantage with a 3-1 loss to the Milwaukee Brewers, who got a two-run homer from Caleb Gindl.
Jorge De La Rosa got his 14th win of the season as the Colorado Rockies beat the Miami Marlins 4-3, while Roy Halladay had only his third victory when the Philadelphia Phillies knocked off the Arizona Diamondbacks 9-5.
Salvador Perez had an early home run and then plated the winning run as the Kansas City Royals topped the Washington Nationals 6-4, while Nick Hundley's walk-off RBI single ended a 15-inning marathon as the San Diego Padres edged the Chicago Cubs 3-2.