The San Francisco Giants have won the World Series for the second time in the space of three years
Last Updated: 30/10/12 3:52pm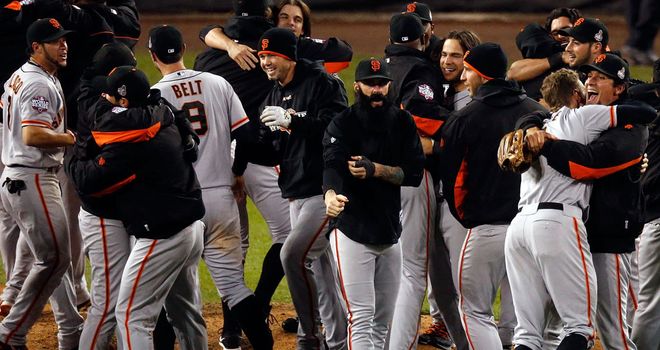 San Francisco Giants: Won in extra innings
The San Francisco Giants have won the World Series after a dramatic 4-3 extra innings victory over the Detroit Tigers gave them a 4-0 sweep of the best-of-seven contest.
The victory capped an amazing run by the Giants, who survived six win-or-be-eliminated games in the National League Division and Championship Series, before finishing their title march by reeling off seven straight victories.
Marco Scutaro was the hero for the Giants on this occasion, hitting a go-ahead single with two outs in the top of the 10th inning which gave San Francisco a 4-3 lead.
Relief pitcher Sergio Romo then secured the victory, getting the final out when Triple Crown winner Miguel Cabrera looked at strike three.
On a tense night in Detroit, the Giants took a 1-0 lead when Brandon Belt tripled in a run in the top of the second off Max Scherzer, but Cabrera then smashed a two-run homer over the right field wall off Matt Cain in the third.
Giants catcher Buster Posey made it 3-2 to the Giants with a two-run homer of his own off Scherzer in the sixth but Delmon Young hit a tying homer in the bottom of the inning, and it then became a nervy battle of the bullpens.
After Cain had gone seven innings for the Giants, giving up five hits and striking out five, Jeremy Affeldt, Santiago Casilla, who got the win, and Romo shut down the Tigers.
And San Francisco then got the winning run off Phil Coke when Ryan Theriot singled, Brandon Crawford sacrificed, and Scutaro cracked a sharply-hit single into shallow centre.
It was the Giants' second World Series win in three years and Pablo Sandoval, who was benched during the 2010 series, was named the MVP after going 8 for 16, with a three-homer performance in game one.