MLB: Derek Jeter suffers broken ankle during the New York Yankees' ALCS game one defeat to the Detroit Tigers
Last Updated: 16/10/12 10:51am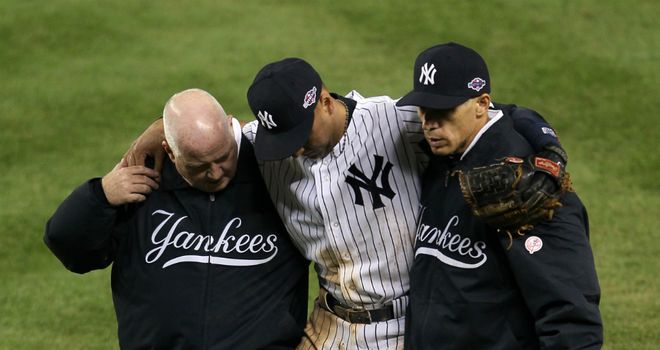 New York Yankees shortstop Derek Jeter is helped from the field with a broken ankle
The New York Yankees suffered a 6-4 defeat to the Detroit Tigers in the opening game of the American League Championship Series - and lost shortstop Derek Jeter to injury for the rest of the post-season.
The Tigers survived a four-run rally by the Yankees to tie the game in the bottom of the ninth, eventually prevailing 12 innings at Yankee Stadium.
Detroit closer Jose Valverde entered with a 4-0 lead but gave up two-run homers to both Ichiro Suzuki and Raul Ibanez.
But the Tigers came through when Delmon Young - who went three-for-six with three RBI on the night - doubled to score Miguel Cabrera in the 12th for the go-ahead run off Yankees reliever David Phelps.
Detroit added another run the later in the inning before pitcher Drew Smyly finished off the win by sending the Yankees down in order.
A miserable evening for New York was completed by the news that their veteran skipper Jeter, who was carried off in agony after fielding a ball awkwardly, had suffered a broken ankle.
Jeter, a five-time World Series winner, will miss the rest of the post-season.
Game Two of the series is scheduled for Yankee Stadium on Sunday with New York's Hiroki Kuroda taking the mound against Anibal Sanchez of the Tigers.