Team-by-team guide to the National League contenders in 2014
Team-by-team guide to the contenders, the pretenders and the likely failures in the National League in 2014.
Last Updated: 26/03/14 3:38pm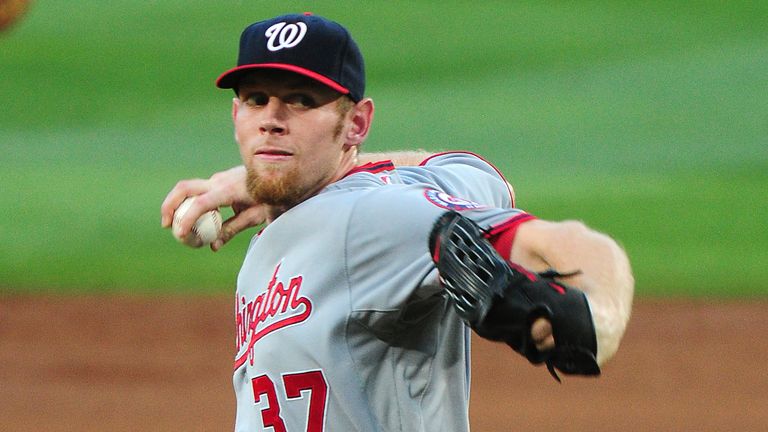 EAST
WASHINGTON NATIONALS: Pitching, pitching and more pitching could be the key in leading the Nationals back to the top of the division - it was good last year but could be even better in 2014.
Stephen Strasburg should be free of any innings limits, Gio Gonzalez and Jordan Zimmerman would be No 1 starters on most teams and Doug Fister's addition makes it four candidates to win 15+ games. The bullpen, anchored by Rafael Soriano, isn't half bad either.
While their line-up is not as strong, it is certainly one of the more exciting in the NL, especially if Bryce Harper makes it through the season unscathed. Ryan Zimmerman, Ian Desmond and Jayson Werth are also reliable contributors of home runs and RBI.
ATLANTA BRAVES:
A month ago, I wouldn't have opposed the Braves but things have changed spectacularly for the worst during Spring Training. The rotation, which might have matched the Nationals, is now lacking Kris Medlen (Tommy John surgery). Gavin Floyd, Brandon Beachy and Mike Minor and has led to some desperation signings.
While they are not out of the race, a lot of pressure will be on their bats to keep them in games if their pitching flops. They should get runs from every position, with Justin Upton the undoubted star, but that might not be enough to keep pace.
PHILADELPHIA PHILLIES: The Phillies seem like a 'should be' team to me. They should be competitors but won't. They should be better than they actually are.
Scoring runs proved a problem last season and that could happen again if Chase Utley and Ryan Howard struggle with injury again. Domonic Brown should lead them in home runs but he was maddeningly inconsistent in 2013 and may still be suffering growing pains.
Cole Hamels and Cliff Lee give them a great 1-2 punch, and A.J. Burnett is a decent (if expensive) signing but will all three still be with the club at the end of the season as trade rumours swirl.
NEW YORK METS: There is optimism in Queen's heading into 2014 but will winter signings and prospects be the combination they need to get back to the playoffs?
Curtis Granderson gives the Mets the big bat they needed alongside David Wright and they have taken a risk on Chris Young coming back to the player he promised to be at times in Arizona.
Their pitching is solid but lacks star quality. Big Bartolo Colon will eat innings (and...no, let's not go there) and Dillon Gee and Zack Wheeler are definitely on the up, but the bullpen and likely closer Bobby Parnell are big question marks.
MIAMI MARLINS: It has been a good spring for the Marlins, but whether they can take that on into the regular season is another matter given their lack of experience in key positions.
Starting pitcher Jose Fernandez is a superstar in the making and there are high hopes for Christian Yelich and a couple of other rookies, but it is asking too much to expect them to be serious players in the playoff race for now. Maybe in 2015, more likely 2016.
VERDICT: The Nationals look to be the team to catch here, especially with the pitching woes the Braves are going through. But Atlanta will, as always, give them a fight especially if a couple of their hurt arms return early enough to have an impact. Don't give up on the Mets quite yet either.
CENTRAL
MILWAUKEE BREWERS: Time to go out on a limb with a prediction and it comes with the Brewers, who could be a real value option to win a Central Division that looks wide open.
If Ryan Braun is not overly affected by his drugs suspension last season they boast the best top-to-bottom line-up in the division. Carlos Gomez is no sure thing to repeat his 2013 but if he does and shortstop Jean Segura continues his upward curve, Miller Park could be an exciting place to be.
Pitching is a little more of a question mark with no obvious star, unless Yovani Gallardo stops his regression over the last two seasons, but all five predicted starters are worthy of a place in a rotation and they have plenty of decent arms in their bullpen. They are just about outsiders to win this division but really shouldn't be.
ST LOUIS CARDINALS: In what looks like being a tight race for the divisional title, the Cardinals will have to rely on a strong rotation to see off their likely challengers from Milwaukee, Pittsburgh and Cincinnati.
Four of their starters - Adam Wainwright, Lance Lynn, Shelby Miller and Michael Wacha - are either stars or stars in the making and Joe Kelly would not be a No 5 option on most other teams in the major leagues.
But the doubt has to be their line-up, which looks lightweight now Carlos Beltran is with the Yankees. They lack power in the middle of the line-up and may have to rely on speed and engineering runs on the base-paths unless someone (Matt Adams perhaps?) emerges.
PITTSBURGH PIRATES: The Pirates finally came out of their decades-long slump last year to reach the playoffs and almost the NLCS. Can they kick on further?
While it would be nice to say yes, they look to have taken a small backward step this season and a wildcard might be their best hope, unless Gerrit Cole proves a reliable replacement over a full season for No 1 starter A.J. Burnett, now with the Phillies.
Pedro Alvarez should be able to repeat his 36 home-run season, and if he can better his average, he becomes a legitimate star, and Starling Marte and Andrew McCutchen make up two-thirds of what could be a superb outfield.
CINCINNATI REDS: Yet another contender in this ridiculously tight division, the Reds might be a couple of parts short of a title bid but certainly not out of the race before it starts.
Shin-Soo Choo may have gone, but Jay Bruce, Joey Votto and Brandon Phillips remain in the Queen City and Billy Hamilton, who has speed to burn, is a decent bet to win Rookie of the Year. He could be the next legendary base-stealer a la Rickey Henderson.
Pitching is more of a concern with Mat Latos, Homer Bailey and closer Aroldis Chapman all injured - the latter was hit square in the face by a batted ball and could miss two months. But if they stay in touch early on, watch out over the second half of the season
CHICAGO CUBS: After four contenders, come the poor Cubs. A team you would love to support but fear for your sanity because of it. Lacking in batting, lacking in pitching and...well...just lacking.
Anthony Rizzo could emerge into a decent power hitter (with loads of strikeouts) and Jeff Samardzija is a decent starter but even he is being talked about in trade rumours - if he leaves everyone else might as well follow. 96 losses last season might be a good result by the end of 2014.
VERDICT: I've been agonising over this for some time but eventually took the brave line and went for a shock division winner; the Milwaukee Brewers. Ryan Braun has a lot to prove to a lot of people and he might just do it in style. But any one of four teams could easily win this division - sorry Cubs fans, it won't be you.
WEST
LOS ANGELES DODGERS: Their season has already started, with two wins over the Diamondbacks in Australia, and if those games were anything to go by they look like a decent bet to win the West in style.
Clayton Kershaw and Hyun-Jin Ryu looked in fine form and with Zack Greinke and winter signing Dan Haren yet to come, plus the crafty Paul Maholm and a stellar bullpen led by Kenley Jansen it is hard to spot a hole.
Their batting is also decent, although it would be a massive boost if Matt Kemp's continuing recovery from ankle surgery happened sooner rather than later. They boast one of the game's brightest prospects in Yasiel Puig as well as All-Star shortstop Hanley Ramirez and will be very difficult to beat. Who knows, they might even spend more money before the trade deadline later in the year.
SAN FRANCISCO GIANTS: World Series winners to also-rans in 12 months, it is difficult to predict which version of the Giants will turn up this season.
They certainly have the pitching strength to go up against the best teams in the National League and if Tim Hudson and Tim Lincecum get back to their best, it might even be a rotation to match the Nationals. Their bullpen, led by Sergio Romo, is certainly not a weakness either.
But runs, as they were in 2012 as well as 2013, could be hard to come by unless Buster Posey and Brandon Belt up their production and Hunter Pence is able to match his from last season. It will be tough for them to catch the Dodgers but it would be no surprise if they did.
COLORADO ROCKIES: I fancied the Rockies to do well last season and I still retain hopes they are better than the team that finished 74-88 in 2013.
They have four or five very decent bats in their daily line-up, with the latest addition being Justin Morneau - if he can stay healthy he is a threat to hit plenty of home runs in the altitude of Coors Field. Troy Tulowitzki, Carlos Gonzalez, Michael Cuddyer and Wilin Rosario are also very good to excellent power hitters.
Pitching is tougher to predict, both in terms of altitude and talent, but Jorge de la Rosa, Jhoulys Chacin and Juan Nicasio should win enough games to keep them in the running for second in the division at least.
ARIZONA DIAMONDBACKS: Already 0-2 and already without their leading pitcher Patrick Corbin for the season (another Tommy John victim) it looks like 2014 might be a forgettable year in the desert.
They have enough power in their line-up from Paul Goldschmidt , who will again approach 40 home runs, and new signing Mark Trumbo but there doesn't seem to be any depth to their starting pitching and without that it will be difficult for them to pick up wins in a tough division.
SAN DIEGO PADRES: The Padres boast something of a bits-and-pieces line-up. Bits of talent, pieces that could turn in to good players but some way short of being able to compete with the Dodgers for now.
The player to watch here is Jedd Gyorko who, if he can cut down on the strikeouts, should emerge as a star at second base. But other than him and Will Venable, who broke through last season, they are a team that lacks power.
Their pitching is okay, but that's not really saying a lot in a division with two teams having excellent rotations. Andrew Cashner is the one who could make it big.
VERDICT: This division should be the Dodgers for the taking, They have spent big over the last two seasons, and in the main spent well. The Giants do not look to have enough power to be able to cope but are well in the mix for a playoff berth at least.
OVERALL VERDICT:
A total of 10 teams will make the playoffs again this season, six division winners and four wildcards. So how do we see it going?
American League Division winners: New York Yankees, Detroit Tigers, Texas Rangers
National League Division winners: Washington Nationals, Milwaukee Brewers, Los Angeles Dodgers
AL Wildcard: Tampa Bay Rays to beat Kansas City Royals
NL Wildcard: St Louis Cardinals to beat Atlanta Braves
World Series prediction: Yankees to beat Nationals in seven games.