Sky Sports' Baseball preview continues with a look at the line-up in the American League
Last Updated: 27/03/13 4:32pm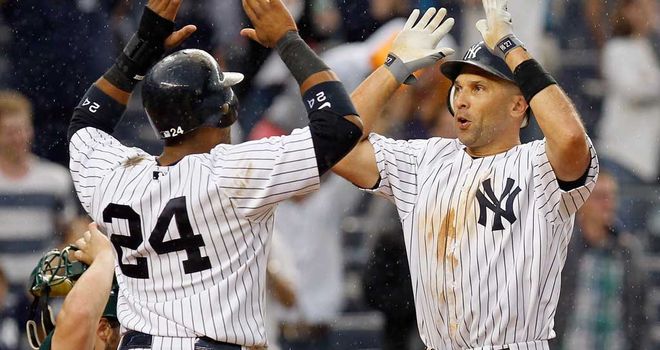 Sky Sports' Baseball preview continues with a look at the line-up in the American League
American League East: AKA The Money Division. It is no longer only the New York Yankees splashing the cash as they have a rival in the Toronto Blue Jays, who will expect to win this division in 2013 after slumping to fourth last season.
They spent big money to bring in shortstop Jose Reyes, outfielder Melky Cabrera and starting pitchers RA Dickey and Josh Johnson and will expect their investment to be realised quickly. The return of Jose Bautista is bound to help but this remains a tough division to win with the Tampa Bay Rays and Baltimore Orioles performing well in 2012 and the Boston Red Sox keen to avoid the embarrassment of finishing bottom again.
Predictions: Blue Jays money shrewdly spent and 100 wins on the cards. Yankees to miss the play-offs with their veteran players starting to show their age
American League Central: This one looks like a two-horse race with the Detroit Tigers and Chicago White Sox vying for play-off berths. Detroit came out on top in 2012 and should do so again with the boost of Victor Martinez's return to their line-up.
Predictions:
NL division winners:
Atlanta
Cincinnati
LA Dodgers
Wildcards:
Washington
Colorado
With Prince Fielder and Miguel Cabrera still in town, and Justin Verlander anchoring a fine rotation, they should just have the measure of the solid White Sox.
Chicago's pitching is also excellent - look out for the continuing emergence of Chris Sale - but their batting line-up has a couple of significant holes and they will need plenty of home runs from Adam Dunn and Dayan Viciedo if they are to keep up.
Kansas City could emerge in third again, and they have bought wisely in adding pitchers James Shields and (to a lesser extent) Ervin Santana, but whether they can challenge the top two is doubtful. Despite a couple of interesting signings it could be a long season for Cleveland and Minnesota will struggle to finish anywhere but last.
Prediction: Tigers bare their teeth and go all the way to the World Series this time.
American League West: Now up to five teams, with the addition of the Houston Astros, this could be the best divisional race of the 2013 season. The Los Angeles Angels finished last season strongly and will look to build on that.
They have added Josh Hamilton to an already strong set of batters but their rotation is weaker without Dan Haren and Ervin Santana so they could need all the runs Mike Trout, Albert Pujols and Hamilton will produce...and then some.
Hamilton's departure makes the Texas Rangers a little less potent but they still look solid, especially with their pitching, and last season's surprise packages Oakland are just as good....as well as young and hungry. Yoenis Cespedes could well emerge as one of the best hitters in the league.
Seattle face a tough task, but not as tough as the Astros, who weren't very good last season, are probably even weaker now and find themselves in a much tougher division.
Predictions: The powerful Angels win the division by a hair and Trout is named American League MVP. Houston are the first team to lose 100 games.