Anniversary Games: Farah obliterates field on return to Olympic Stadium
Last Updated: 28/07/13 11:30am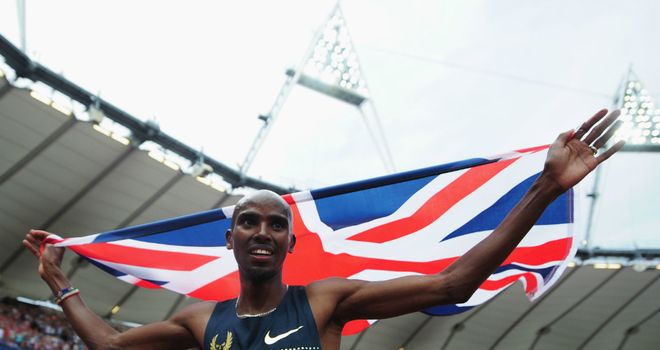 Stomping ground: Mo Farah recorded a third Saturday victory in the Olympic Stadium on his return
Double Olympic champion Mo Farah made a victorious return to the Queen Elizabeth Park on Saturday as he raced away with the 3000 metres.
The 30-year-old Londoner received a rapturous reception as he entered the arena where he triumphed twice at the London 2012 Games, winning both the 5000 and 10,000 metres.
Anniversary Games: Men's 3000m Results
1 Mo Farah (GBR) 7:36.85
2 Ryan Hill (USA) 7:42.32
3 Andrew Bumbalough (USA) 7:42.91
4 Tariku Bekele (ETH) 7:43.98
5 Dathan Ritzenhein (USA) 7:44.68
6 Daniele Meucci (ITA) 7:45.31
7 Chris Thompson (GBR) 7:45.52
8 Andy Vernon (GBR) 7:48.01
9 Nathan Brannen (CAN) 7:48.98
10 Gideon Gathimba (KEN) 7:49.75
Farah destroyed the field with a devastating final lap as he came home in seven minutes 36.85 seconds, some five seconds ahead of second place.
The race pace was sedate throughout and David Moorcroft's 31-year-old British record of seven minutes 32:85 never appeared to be in sight for Farah, who claimed victory in front of a home crowd on a Saturday for a third time in the Olympic Stadium.
Despite missing out on a record time, Farah did register his personal best as he obliterated the field before crossing the line in customary fashion with his arms stretched wide before bending down to kiss the track.
Farah's next stop will be St Moritz as he continues his preparations for the Athletics World Championships which start in Russia in two weeks' time.
Support
Farah said: "It's great to be back. It was a good race and the crowd were great. There're so many people here to support us.
"It's good to be back and win here again, I have so many nice memories of racing here.
"I wanted to make them proud. I'm in great shape, so it's going well for (the World Championships in) Moscow."