NFL Wembley: Sky Sports has all the build-up from Minnesota Vikings v Pittsburgh Steelers
By Paul Higham Twitter: @SkySportsPaulH. Last Updated: 26/09/13 4:17pm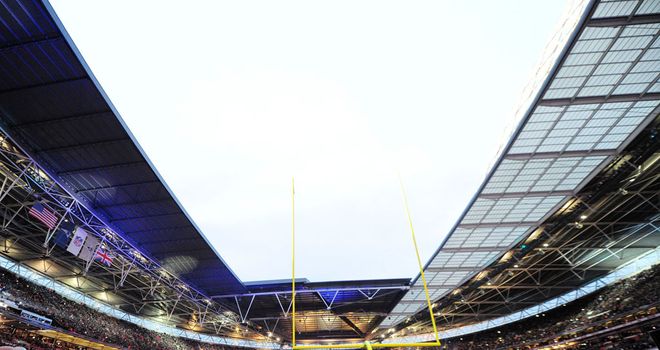 The NFL is heading back to Wembley
The NFL is back in London for the seventh international game between the Minnesota Vikings and the Pittsburgh Steelers, and we'll have all the build-up right here.
For the first time, the NFL will play two regular season games outside of America, and it could lead to even more depending on how these games go this autumn.
First thing's first though, and both the Steelers and Vikings arrive in the UK in the unfamiliar position of 0-3 and still chasing their first win - it should make for an even better atmosphere with both teams desperate for a first win of the campaign.
NFL back in London
London prepared for NFL
The flags are out on Regent Street as the NFL gets ready for the biggest street party held in the UK. Regent Street has already been decked out and on Saturday it will be a traffic-free zone for NFL fans to wander and join in the party with live music and interactive exhibitions to get everybody in the mood for the big game.
Even the players from the two teams will be out and about, while the Vikings cheerleaders and Skol drummers will be performing for fans to ramp up the excitement for Sunday's big game.
Patient Peterson
Peterson preaching patience
Adrian Peterson is one of the best running backs in history and watching the reigning MVP in action is a real treat for fans heading to Wembley on Sunday. We caught up with the man himself as he prepares to face the Steelers.
It's been a relatively quiet start to the season for Peterson but he is confident he can break off some trademark big runs on Sunday if he can just stay patient.
Viking Invasion
Vikings working in community
The Vikings arrived nice and early in London, and they wasted no time in heading straight to Wembley Stadium to give a workshop for local kids as they look to spread the word of American Football.
The NFL's Play 60 scheme is all about getting kids involved in sport of any variety, but the local youngsters were keen to try out their throwing arms and were delighted to see some real live NFL players in person.
Long journey
Local Minnesota journalist Brian Murphy
It's been a long trip over, but the Vikings are enjoying their time in London, as are the travelling media who have come over to report on their team's big adventure in the UK.
We caught with Vikings beat writer Brian Murphy who had loved his early impressions of London and talked over some team issues, mainly surrounding quarterback Christian Ponder.