Neil Reynolds' Super Bowl Players to Watch
Last Updated: 01/02/14 10:18am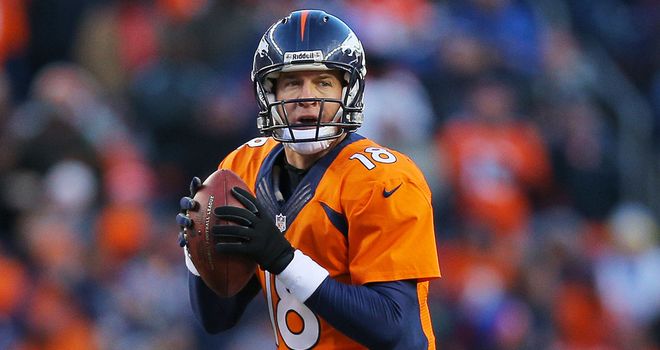 Peyton Manning: Can he win a fifth MVP?
The big game in New York is drawing ever closer and it will soon be time for the seemingly endless hours of talking to stop and for the showdown between the Seattle Seahawks and Denver Broncos to take place.
And then the Broncos and Seahawks do take centre stage at MetLife Stadium on Sunday night, here are six key players to keep an eye on.
QB Peyton Manning - Denver Broncos
There is not much left to write about Peyton Manning that hasn't already been written, so I will just say this about the man who will likely become the five-time MVP of the NFL on Saturday night... he is a film room geek, who according to those closest to him "has a little Rain Man" in him. Peyton prepares like no other and the challenge Seattle will present to him is a physical one and not a mental one.
WR Wes Welker - Denver Broncos
Given how good they are at defending the outside, the Seattle Seahawks may force Manning to attack the middle of the field. And they may not be able to rely on second-year tight end Julius Thomas as he goes up against the most physical safety in the game in Kam C hancellor. So the Broncos might need to lean heavily on Welker, who has 18 receptions in his previous two Super Bowl appearances - both losses.
DT Terrance 'Pot Roast' Knighton - Denver Broncos
At first glance, Pot Roast looks like your classic run-stuffing, two-gap plugger... but he is more than that and has some quickness to his game as evidenced by the sack he recorded in the AFC Championship Game. While inside push would be nice on any weekend, the Broncos want to keep Russell Wilson in the pocket and Knighton's priority will be to slow Marshawn Lynch and force the powerful runner to move laterally, allowing the linebackers to clean up behind him.
RB Marshawn Lynch - Seattle Seahawks
He may not enjoy speaking to the media, but Marshawn Lynch is happy in a big-game environment and has produced some of his best performances for the Seahawks in the playoffs. When he goes 'Beast Mode' the opposing defence is normally in a world of trouble. How he copes against a Denver rushing defense that shut down San Diego and New England in the playoffs could go a long way to determining the outcome of this game.
WR Percy Harvin - Seattle Seahawks
Here is your Super Bowl X-factor, ladies and gentlemen! When healthy and on top of his game, Harvin is a speed merchant who can bust a contest wide open. He is fast and exciting to watch and I expect the Seahawks to find ways to get him the ball in space. Harvin played in just 37 offensive snaps all season long and had just 1 catch heading into the playoffs. If healthy, he is an elite athlete and a very exciting player. He may just swing this contest in Seattle's favour.
S Kam Chancellor - Seattle Seahawks
He is built like a linebacker, moves like a cornerback and hits like a train. There is not a more imposing defensive back in the game and Chancellor still manages to hit hard and intimidate in an era when the rules are geared more towards those on the offensive side of the ball. I think Chancellor is going to provide a stern test of the manhood of young Broncos tight end Julius Thomas. If Chancellor wins that match-up, that's another big weapon taken away from Peyton Manning.
Honourable mention - Richard Sherman, CB, Seattle Seahawks
How could I not mention Richard Sherman? But I do wonder how many times he will be challenged in this Super Bowl. He has talked a good game this week and we know this guy is always capable of backing it up - expect to see a great deal of Sherman on Demaryious Thomas. LOB!!
From the Super Bowl to the Showdown on MNF, it's a great weekend on Sky Sports. Click here to upgrade