NFL: tense playoff race in store in December as battle for prime position
Last Updated: 25/11/13 3:26pm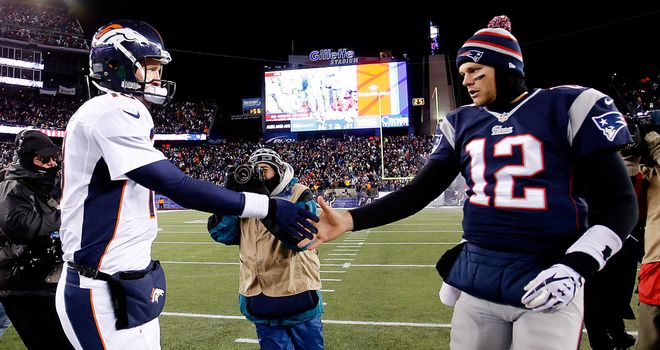 Manning and Brady shake hands after the Patriots defeat the Broncos 34-31 in overtime
We're starting to approach the business end of the 2013 NFL season and Sunday's intriguing action has left the playoff race wide open in both the AFC and the NFC.
There may have been a potential power shift at the top of the AFC as the New England Patriots defeated the Denver Broncos in overtime, but just as fascinating is the race for the sixth and final playoff spot.
With five weeks of the regular season remaining, there are currently six teams in position for that final spot as Tennessee, Baltimore, Pittsburgh, Miami, New York Jets and San Diego Chargers all share the same 5-6 record.
It should make for lots of tense and meaningful games in December.
Here is what caught my eye in NFL Week 12...
Tom still owns Peyton
"In the end, it was a shame that a great duel between two Hall of Fame passers ended with a special teams error that gifted New England the winning field goal."
Neil Reynolds
Tom Brady has long held the upper hand over Peyton Manning in their head to head contests and he boasts three Super Bowl rings to his counterpart's one, even though Peyton has put up more 'Star Wars' statistical numbers over the years.
So Brady might potentially have been in Peyton's head before Sunday night's game. He definitely will feel he has the psychological edge now after a 34-31 overtime victory. The win came even though New England spotted the Broncos a 24-0 halftime lead and conceded more than 200 rushing yards to Knowshon Moreno.
How often can a team claim to have given Peyton Manning a 24-0 lead and still won?
Brady led the Patriots on the comeback charge, throwing for 344 yards and three touchdowns while Manning racked up just 150 passing yards and two touchdowns, the second of which was a beauty to send the game into overtime.
In the end, it was a shame that a great duel between two Hall of Fame passers ended with a special teams error that gifted New England the winning field goal. I have a feeling these teams will meet again in the AFC playoffs in January and I would probably give the edge to the Patriots again, even though there is probably more talent on the Denver roster. Tom appears to have Peyton's number.
Meaningful once more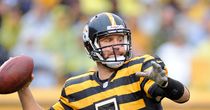 Earlier this season it appeared as if the shine was coming off the bitter rivalry between the Baltimore Ravens and the Pittsburgh Steelers. The defending champs were sluggishly plodding through their schedule playing uninspired football, while Pittsburgh were 0-4 and in the doldrums after losing to Minnesota at Wembley.
I don't want to label either team as a Super Bowl contender just yet because there are still significant flaws in their respective games, but they are right in the thick of the AFC playoff race, making their Thanksgiving Day meeting on Thursday night a massive showdown that we will have exclusively live on Sky Sports.
The Steelers have won five of their last seven contests and have been buoyed by the form of quarterback Ben Roethlisberger, receivers Antonio Brown and Emmanuel Sanders, and a veteran defense finally finding the turnovers that were non-existent at the start of the year.
The Ravens are coming off a stifling defensive display at home against the Jets and dragged just enough production out of a faltering offense to control that game. There is no love lost between the Steelers and the Ravens and this should be a good one.
Lions fail to capitalise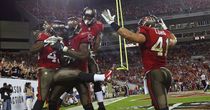 Since Aaron Rodgers was sidelined with a broken collarbone, the Green Bay Packers have lost three games and played out one tie. They have gone from an NFC North-leading 5-2 record to a 5-5-1 mark.
But the Detroit Lions - who had a magnificent chance to seize control of the division - have failed to do so and sit just half a game ahead of the Pack at 6-5 as the two clubs prepare to meet in our first game on Thanksgiving Day on Sky Sports this Thursday.
Last night's disappointing 24-21 defeat at the hands of the suddenly-hot Tampa Bay Buccaneers means Detroit have now dropped two in a row having also lost to the Pittsburgh Steelers in Week 11.
The Buccaneers are playing hard right now and have won three in a row, but the Lions can surely only have themselves to blame for this loss and for another missed opportunity. Matthew Stafford threw four interceptions and the Lions also lost a fumble and had a punt blocked.
That is not the kind of clean football that teams heading to the playoffs want to be playing at this time of the year. We'll see if the Lions can turn it around on Thursday but they must be a frustrating team to support this season.
Rams run all over the Bears
The Chicago Bears are another NFC North team that blows hot and cold and they fell to a comprehensive 42-21 defeat at the hands of the St. Louis Rams on Sunday evening. It was rarely a contest as the Rams controlled the proceedings to improve to 5-6 while dropping Chicago to a 6-5 mark.
Many headlines have and will be written about the Bears playing without injured starting quarterback Jay Cutler, but the form of Josh McCown is not the reason Chicago lost this game. The Bears simply cannot stop the run and are getting mashed on the ground week in and week out.
The Rams rushed for 258 yards and three scores, easing the pressure on their own stand-in quarterback, Kellen Clemens. St. Louis also played some beastly defense and won the physical battle on both sides of the ball.
Panthers dig deep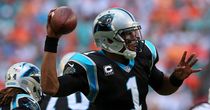 Now they have won seven in a row following their 1-3 start, it is safe to believe that the Carolina Panthers are for real. And Cam Newton has grown up in his third season as an NFL quarterback.
The Panthers had to dig deep in this contest and showed just enough resistance in the first half to force Miami into kicking field goals instead of scoring touchdowns. Even with that defensive effort, the Panthers still trailed 16-3 in the second period and 16-6 at the half.
Newton was being harried and hit hard by an aggressive Dolphins defense, yet he showed a willingness to fight through adversity that was simply not there when he first entered the NFL. Early in his career, I think Newton was a front-runner who played well when things were going swimmingly.
But he has matured and found the way to lead his team back rushing for one touchdown before firing the game-winning strike to tight end Greg Olsen inside the game's final minute.
With a defense that is for real and a fast-maturing quarterback with superstar potential, the Panthers could be ready to make a deep playoff run in the NFC.
Rivers takes apart the Chiefs
The knock on the Kansas City Chiefs this season is that they have feasted on some back-up quarterbacks who offered less-than-stellar passing performances against them.
That may be a tad harsh but this fact remains - after a 9-0 start the Chiefs have now lost consecutive games against teams led by elite quarterbacks in Peyton Manning (Denver) and Philip Rivers (San Diego).
Rivers shredded the Chiefs to the tune of 392 yards and three touchdowns in a back and forth showdown that ended with a 41-38 scoreline in favour of the Chargers. Frustratingly for Chiefs fans, their defense disappeared on an afternoon when they finally found their offensive rhythm.
With Denver losing it was not too damaging for Kansas City to drop a second game, but I think it shows there are frailties to their game and I would place them behind Denver and New England in the AFC power rankings. I just trust those two teams to score more points than the Chiefs.