NFL: Denver Broncos continue to build new defence with addition of DeMarcus Ware
Last Updated: 13/03/14 7:54am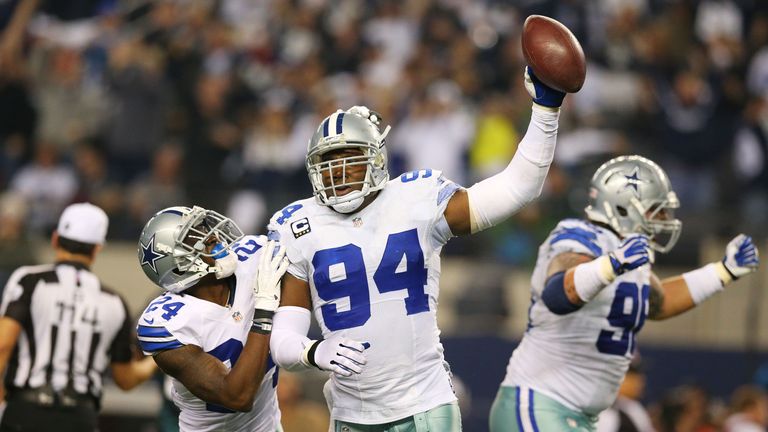 The Denver Broncos further bolstered their defence by picking up former Dallas Cowboys pass rusher DeMarcus Ware in free agency.
Ware, a seven-time Pro Bowler who led the NFL in sacks in 2008 and 2010, attracted big interest as soon as he was released by the salary cap-strapped Cowboys.
The 31-year-old is the second-highest producer of sacks since he was drafted in 2005 and has tallied double-digit sacks in all but two of his seasons in the NFL. He will earn a reported $30 million over three years with the Broncos, with $20m of that guaranteed.
He becomes the third star defensive name to sign with the Broncos since the start of free agency, joining safety TJ Ward and cornerback Aqib Talib in Denver.
The Broncos, who lost to the Seattle Seahawks in the Super Bowl last season, owned statistically the best offence in NFL history last year and are now looking for a defence to match it.
Coveted
"We needed another pass rusher and I think when DeMarcus became available, there was no question that he was the guy we coveted and wanted the most," executive vice president of football operations/general manager John Elway told the Broncos' official website.
"Fortunately we were able to lure him to Denver, because he is a guy that has had a tremendous career and has been consistent.
"He just missed three games last year and those were the only games he's missed his whole career. He had a bad elbow – we really think he has a lot of good football left.
"And then you put him opposite Von Miller, it is a very formidable pass rush. To have those two guys coming off the edge is going to be quite the pass rush."
Denver has lost a central figure of that record-breaking offence, however, with wide receiver Eric Decker leaving for the New York Jets on a five-year deal.