NFL: Jay Cutler cleared to play for Chicago Bears against Detroit Lions
By Paul Higham Twitter: @SkySportsPaulH. Last Updated: 07/11/13 8:55pm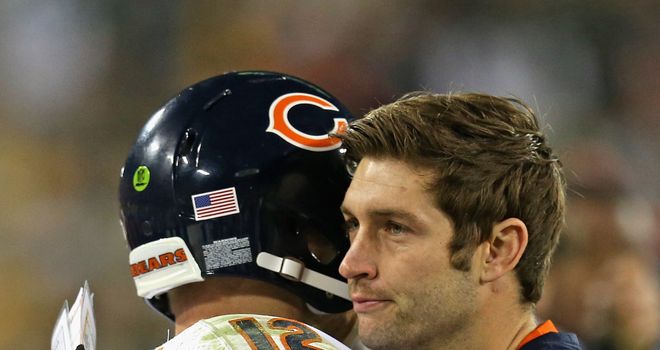 Jay Cutler has made a quick return from injury with Josh McCown playing well
American Football Betting

American Football Betting

Bet with Sky Bet
Quarterback Jay Cutler will return to action for the Chicago Bears on Sunday in our live game against the Detroit Lions after recovering from his groin injury.
Cutler tore a groin muscle on October 20 against the Washington Redskins, and although the original diagnosis put him out for four weeks, he was back on the practice field Thursday just 18 days later.
Josh McCown has filled in admirably for Cutler, but Bears head coach Marc Trestman said that after being cleared by the medical staff Cutler would be back under centre on Sunday against the Lions.
"He's cleared to play so he's going to play," Trestman said. "Jay has spent, since the day he got hurt, really 24/7 doing everything he can on and off the field to get ready.
"Jay is unique regarding he really understands his body. He understands how to take care of himself, and he's a unique athlete. There was an incredible amount of hard work and effort that he had put in to even have a chance.
"We're excited about it. It says a lot about his commitment to the team. He came in this morning, did a few of the things. The doctors said, 'You're good to go.' "
Trestman insisted Cutler would not be limited in any way by the injury, adding that they would not have him back taking all the practice snaps if he was not fully healed.
Ahead of schedule
For his part, Cutler says that as soon as he was injured he knew he would beat the diagnosis and return ahead of schedule - while also adding that he is fully fit.
"If I wasn't back to 100 percent or had any doubts, I wouldn't have been practicing today," said Cutler. "Personally, I feel ready. That's the biggest thing.
"As soon as I got hurt I thought I'd be quicker than they thought."
Local media reported, however, that Cutler looked a big hesitant in practice and was moving somewhat gingerly when throwing the ball.
With Cutler in the last year of his contract and McCown playing so well in his place, there has been talk that the former Denver man is rushing back into action due to worry over a new deal at Soldier Field - something which he obviously played down.
"I haven't worried about my contract. I haven't worried about it, period. That stuff takes care of itself somehow some way," Cutler said.
"So my biggest thing was just helping Josh last week to make sure, even though I knew he would be ready, to make sure I could help him in any way, and then get back as quick as possible so I could help those guys."