View from American; Simon Veness looks ahead to the Super Bowl
Last Updated: 01/02/14 1:27pm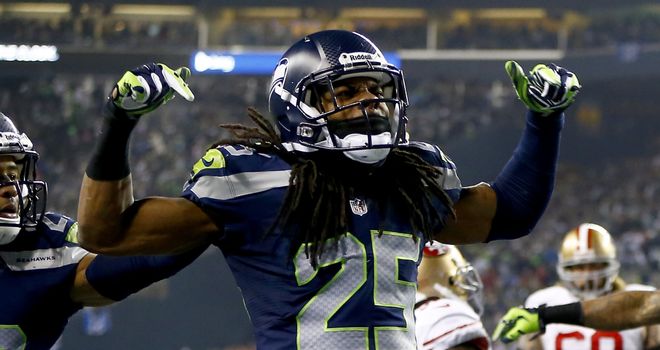 Richard Sherman: Can he stop Peyton Manning?
American Football Betting

American Football Betting

Bet with Sky Bet
It was almost inevitable that it came down to this in all the pre-game hype and hoopla - Peyton Manning v Richard Sherman, and the Great Duck Debate of 2014.
It will be resolved, once and for all, when Denver and Seattle step out on to the MetLife Stadium astroturf on Sunday night, with the 37-year-old Manning facing the Legion of Boom defence led by the charismatic - but totally uncompromising - 25-year-old Sherman.
The veteran Hall of Famer against the Young Gun and his posse; the schemer against the athlete; poise against power; the Irrestible Force against the Immovable Object. The man who - allegedly - throws ducks, against the man who intercepts them for a living.
"This is such a startling clash of opposites, you can't help but compare and contrast - and anticipate possibly another 'greatest' - the Greatest Super Bowl of all time."
Simon Veness
There are any manner of comparisons for what is without doubt the most compelling match-up since Joe Namath hung up his cleats. It is a contest for the ages, of two totally contrasting styles and moods, but the one that seems most valid is Mohammad Ali v George Foreman, the rope-a-dope era Ali who had all the tricks and style but faced an absolutely ferocious, never-say-die opponent.
Now, I'm not suggesting the Seahawks are quite as one-dimensional as Foreman proved in the 1974 'Rumble in the Jungle,' when Ali simply allowed his formidable opponent to punch himself out and then landed the big KO blow himself. Nor are the Broncos anywhere near The Greatest in terms of his poise and agility.
But this is such a startling clash of opposites, you can't help but compare and contrast - and anticipate possibly another 'greatest' - the Greatest Super Bowl of all time.
Simply put, whoever ends up on the podium with Roger Goodell and the Vince Lombardi Trophy is going to have to overcome one of the most extreme tests ever set before an offensive or defensive coordinator in the history of the NFL's title game.
The league's No.1 offence has never faced the No.1 defence in a Super Bowl before, and there has never been a bigger discrepancy in terms of the two quarterbacks, from a 37-year-old veteran looking to cement his all-time legacy to a 25-year-old in only his second year in the league with the kind of precocious talent most veterans can only dream about.
Looking at every key aspect of the game is like a study in opposites, and you can only sit back and admire the two sets of players that are so different in their set-up - and so alike in their single-minded dedication to the task in hand.
Trying to decide who will be the ones on the podium come the early hours of Monday morning (UK time) is, of course, the $60,000 question, and it is a multi-million dollar conundrum because, for every weighty argument you can advance on behalf of Peyton and Co there is an equally persuasive and powerful case you can put up for Pete Carroll's men.
The Broncos have truly been a remarkable offensive machine for much of the time, diagnosing and then dissecting opponents with breathtaking precision, most notably in the play-offs when neither San Diego nor New England could halt the Manning bandwagon when it counted most.
And yet - Denver scored only a combined 50 points in those two games, when their season average was 37. Both the Chargers and Patriots are hardly defensive juggernauts when compared to the Seahawks and you have to think Peyton will be under the greatest physical duress he has seen in a long time when facing Seattle's defensive line.
Then he has to get the ball out against the most athletic and daunting secondary arguably in NFL history, a quartet of street-smart, well-coached, ultra-competitive punishers who simply refuse to take a backward step. Something has to give here, but deciding which side of the ball will prevail is a bit like determining which is the more elemental force, an earthquake or volcanic eruption.
<>You don't want to be around either one and they can make a fair old mess of anything they touch. But going head-to-head? Ask me something simpler, like the square root of infinity.
Turn the debate around and you have an equally vexing situation. Young Russell Wilson has been the modern reincarnation of Joe Cool for much of the campaign. He hasn't put up startling numbers, just a 13-3 record and the ability to pull out the key play when it matters most.
Righteous stuff
The original 'Joe Cool,' Joe Montana, won his first Super Bowl when he was 25 and went on to add three more, thriving in the rarefied atmosphere of the play-offs, and many pundits suspect Wilson is made of the same righteous stuff. The fact the Seattle ace has put up a 101.2 quarterback rating this year - something that took Montana six seasons to achieve - only heightens the sense of anticipation.
And yet - the Seahawks offence has averaged barely 20 points in their past six outings, including both play-off wins with a combined 46 points. In that spell, Wilson had three interceptions and four fumbles (only one lost) and, at times, looked more like Joe 90 (the nine-year-old version) than Joe Cool.
Wilson, though, has the safety valve of the Beast of the West in Marshawn Lynch, and you have to think the Broncos' front seven will take a serious hammering from the Skittles-loving running back who - while he may not like talking to the media - does plenty of talking on the field in the shape of battering-ram runs that often register on the Richter Scale (you see, back to earthquakes again).
Denver have been nobody's pushovers in recent weeks, though, limiting their last four opponents to just 72 yards per game, with Terrance Knighton coming to the fore as a gigantic, run-stuffing influence. Indeed, during one of his rare statements of any great illumination, Lynch admitted the one thing he feared in his bid to bulldoze a way to the Lombardi silverware was - old Pot Roast himself, the 335lb (and a bit) Knighton.
Again, you are left feeling the scales are evenly balanced and ready to move only at the most subtle and insistent of urgings. Both teams are fully capable of providing that key impetus, on offence and defence, but discerning who will actually be the ones to make it is a completely forehead-wrinkling past-time.
Yet game-time is now approaching and it is time to get off the fence; to make a reasoned judgment; to predict a winner.
And, in a full week's worth of back-and-forth, in leaning first one way and then the other, I keep coming back to two things.
Weapons
Firstly, Manning has SO many weapons on offence and is such a past-master at reading even the most obscure and challenging puzzles, you feel he simply HAS to find a way to solve the Seahawks. For all their hard-hitting prowess, the Legion of Boom have not faced such an inscrutable and ultra-tactical foe, and it is hard to see Denver not putting up their play-off standard 25 points.
And, if they do, it will be up to a second-year signal-caller to respond in kind and find a way into the Broncos' end zone at least three times, something they could not manage against either New Orleans or San Francisco.
Wilson also walked past me during one of Seattle's media sessions this week. At all of 5ft 9in, I certainly don't tower over anyone, especially in footballing circles. And yet Wilson - listed at a generous 5ft 11 - seemed to be pretty much on the same ordinary, mortal level as myself. Is this really a Super Bowl-winning quarterback, I couldn't help asking myself.
Put him side by side with the 6ft 5in Manning and it literally looks like a boy in a man's world. Montana himself was a healthy 6ft 2in, far more advantageous in the lofty gridiron world. But then he couldn't run like Wilson.
Rumble
You see, there I go again. As fast as I put up an argument for one side, I knock it down again. It really is that kind of game.
The one thing I can say with a great deal of certainty, though, is that, after covering 16 Super Bowls, this is most definitely one I would pay to watch, even at this year's average of $1,600 a ticket.
Ali and Frazier's Rumble in the Jungle was one of the most compelling pieces of sporting action of all time. XLVIII has the potential to be just as good. Just don't expect a knockout.
From the Super Bowl to the Showdown on MNF, it's a great weekend on Sky Sports. Click here to upgrade