Roll up, roll up!
The circus continues
Last Updated: 11/04/12 1:31pm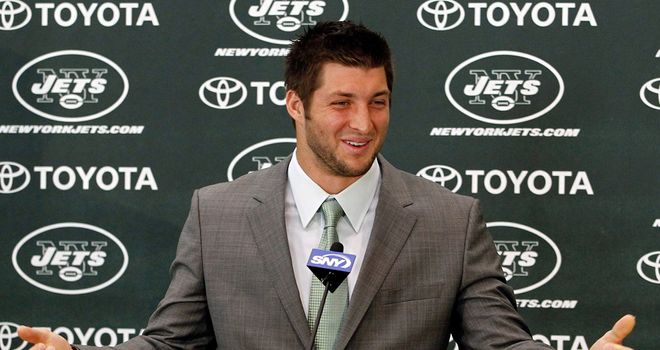 Tebow: arrives in The Big Apple
American Football Betting

American Football Betting

Bet with Sky Bet
Roll up, roll up! Get your tickets for the Big Train Wreck here! See Rex Ryan implode in a hail of Tebowing and watch as the locker-room dissolves into complete anarchy! Plenty of room, come one, come all!
"They are practically selling ringside seats, not so much for the games but the supposed outbreak of internal hostilities."
Simon Veness Quotes of the week
At least that's how the media are seeing things over here this week in the wake of Tim Tebow's arrival in The Big Apple, Darrelle Revis's comments about the team being in "disarray" and head coach Ryan sniping at former offensive coordinator Brian Schottenheimer.
They are practically selling ringside seats, not so much for the games but the supposed outbreak of internal hostilities that are implied by a week of complete off-field frenzy in the green portion of New York (I was going to say green 'half' but it's doubtful if the Jets really do command 50 per cent of the city's football followers, even though it often sounds like it).
As if Peyton Manning taking his high-class act to Mile High Denver wasn't enough of a circus, the shock movement of Tebow to MetLife Stadium wasn't so much a three-ring act as a mammoth pantomime of All-Star proportions.
You half expect the fans to be shouting "Look behind you!" after every incomplete Mark Sanchez pass in reference to the player-in-waiting who is now his back-up, while there are bound to be choruses of "Oh not it isn't!" and "Oh yes it is!" at Revis' offhand remark about the current state of the locker-room.
It really does make you wonder how someone even of the seemingly inexhaustible bombast as Ryan is going to make all these disparate pieces work once they actually set foot on the field.
Feeding frenzy
The pundits have been positively queuing up this week to take pot-shots at the Jets, with ESPN's Jim Rome voicing incredulity at Revis's statement, Fox Sports labelling the whole deal a desperate publicity stunt and regular rabble-rouser Stephen A Smith spouting outrage in every direction in his weekly shout-fest with Skip Bayless.
Even the Giants, the reigning champs themselves, weren't above a few sly barbs in their ground-share rivals' direction, with owner John Mara joking that their "back-up quarterback" David Carr will be holding his own press conference sometime soon and head coach Tom Coughlin smirking that the fans know who the "real" New York team is.
In fact, the only surprising omission from the catalogue of cat-calling is usual agitator-in-chief Santonio Holmes, who has maintained a dignified silence over the whole Tebow arrival furore. The wide receiver has been labelled locker-room malcontent Numero Uno on more than one occasion, but is wisely saying absolutely nowt right now.
The one thing that doesn't surprise in any way is the NFL's endless ability to command the sports news headlines at all times, even during an off-season phase when the new baseball season has just started, college basketball's Final Four is about to get under way and the NBA and NHL campaigns are bubbling up for their play-offs.
It is still almost a month before the annual Draft and yet we already have wall-to-wall NFL news, opinion and comment, with very little of it devoted to the two big names in that April 26 Radio City Musical Hall date, Andrew Luck and Robert Griffin III.
What off-season?
Even today, as fast as I refresh the pages of the big online sporting news-machines over here, there is more and more football content. If it isn't Tebow and the Jets it is Sean Payton and the ill-starred Saints; or it is the league owners meeting just down the road in Palm Beach; or the latest on Manning's neck (as if it is somehow a living entity in its own right); or the newest player to join the big concussion lawsuit piling up against the league (in this case, 1992 Super Bowl MVP Mark Rypien).
There just is no off-season for football any more. The players may not be playing but they are just as capable of creating stories as if it were first-and-goal with a play-off place at stake.
Here's another case in point. Urban Meyer, the coach who stepped down from his position at University of Florida "to spend more time with my family" only to head off to Ohio as soon as someone waved a big-enough cheque, is urging the Jets to "just let Tebow play."
And, of course, Meyer should know because he coached the lightning-rod left-hander for four seasons, including his senior year in Gainesville against the might of Charleston Southern, Troy and Florida International and, although he has never either played or coached in the NFL, believes the college-type spread offence would "absolutely' work in the pro ranks.
It is definitely the kind of advice the Jets need like they need another 35-minute Tebow press conference in front of more than 200 rabid media, but it just shows how this bandwagon is not so much out of control as careering wildly for the nearest cliff.
But it's all grist to the US media mill, and the wheels are turning at a furious rate just now, neither able to get enough of the Tebow story - nor actually able to make any real sense of it.
It is a classic case of all noise and no sound, all light but no illumination. It does, occasionally make for good TV (like Smith v Bayless with the sound on 'mute' - try it sometime, it's like watching Punch and Judy on steroids!), but there does come a point at which you want to cry (not cry 'enough,' just cry at the poor state of much of the reporting).
I have long since given up listening to the local sports radio jocks who make less sense than our neighbour's three-year-old, but I do expect more from the TV boys.
It all just goes to show, where Tebow's concerned, the circus really HAS come to town, and no-one really knows what act we'll see next. Although I strongly suspect it may be to the backing of 'Send in the Clowns.'