NFL: Picking Super Bowl teams is not straight forward, says Simon Veness
'Pre-season favourites can be toppled'
Last Updated: 04/09/14 1:35pm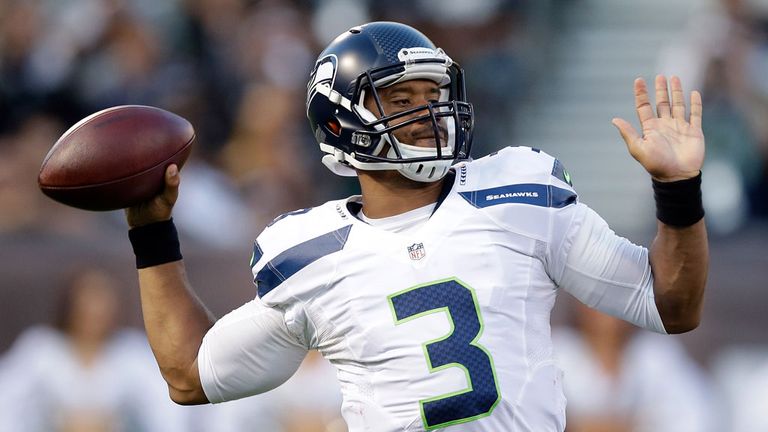 Mark Twain once said, "There are lies, damned lies and statistics." But he should have added, "…and then there are the NFL pre-season standings."
Because, according to the latter, the New York Giants are the cream of the crop heading into the new season, the owners of a shiny 5-0 record from all their August skirmishing.
But anyone who saw the Giants in action in the past month is pretty sure they are about as far from a 5-0 team as I am from writing a sentence without a simile (think about it; I'll wait…).
A myriad other possibilities all lie in wait for anyone who thinks the season is a foregone conclusion.
Simon Veness
So we can be fairly sure the pre-season standings are not only 'damned statistics' but also a worthless pile of rubbish we can consign to the pigskin junkyard. If there's one team that wasn't a 5-0 dominator in August it was the Giants, and yet there they sit, looking down on all they survey in statistical terms.
But, if we can't trust the evidence of the standings to make any sense of our pre-season prognostications, what can we use to make some worthwhile value judgments?
Well, how about the intense volume of that crashing, pad-on-pad noise from Washington State, where Seattle seem to have refined their hard-hitting act from last season? To me, that's a loud-and-clear indicator the Seahawks are ready to turn it loose once more, and woe betide any Green Bay rookies in the way.
That would be the Packers' new centre Corey Linsley, who is stepping into the breach after JC Tretter went down with a serious knee injury in the penultimate pre-season game. Fifth-round pick Linsley has not managed a single pre-season snap with Aaron Rodgers and will be expected to keep the rampaging CenturyLink Field hordes off his quarterback in the season opener. Good luck with that.
Another handy quote to get things going this season is from that well-known poet Bill Shakespeare, who used the phrase 'Cry Havoc! And let slip the dogs of war' more than once. And, while it is a fitting parable for Seattle, it is equally true of New Orleans, who have re-tooled on defence and quite fancy their chances of being the bullies of the NFC South.
These two are in most pundits' picks for the NFC's representatives in XLIX in Glendale on February 1. You can chalk up a few supporters of the Packers, the 49ers (a dwindling band with all their defensive injury/suspension/whoknowswhat chaos) and the Eagles, but most find it hard to look beyond Seattle and New Orleans.
Indeed, many see the whole season coming down to a battle for play-off home advantage between the Seahawks and Saints; whoever gains the upper hand goes on to hold the Vince Lombardi triumphantly aloft in the University of Phoenix stadium. It's that simple.
No foregone conclusion
Except that's also a worthless pile of rubbish we can consign to the pigskin junkyard. Yes, the Seattle v New Orleans shootout makes sense, but consider that no defending Super Bowl champ has even won a play-off game in the past eight years (and four didn't even make it to the play-offs), and you start to understand the factors militating against them.
An unexpected injury (Russell Wilson, Marshawn Lynch, Richard Sherman), loss of form (see all of the above, plus Kam Chancellor and Brandon Mebane) or a myriad other possibilities (a drug suspension, rash of penalty flags or a simple let-down after last season) all lie in wait for anyone who thinks the season is a foregone conclusion.
So look out for potential uprisings from the Eagles, Bears, Falcons or even the offensively-loaded Lions, while also giving the Saints and Packers close regard for a possible second title in the space of a few years.
In the AFC, the massed ranks of the US media find it had to see further than Denver and New England, making it another potential two-horse race for Arizona. True, a few brave souls do plump for Indianapolis, and I have even seen a vote for San Diego among the mix, but 'in Peyton and Tom we do trust,' is their motto.
Which is yet another worthless pile of rubbish we can consign to the pigskin junkyard. Manning and Brady have a combined age of 75 and both teams would struggle to go 8-8 without their star signal-caller, hence both are only an injury away from making a nonsense of those predictions.
Consider that fully 11 teams failed to get 16 games out of their starting quarterback last season – neither of which was the Broncos or Patriots – and again, the weight of statistical probability is heavily against at least one of the league's Old Timer brigade.
And, if you take either one (or possibly both) out of the prediction equation, then there are an intriguing host of possibilities following behind. The Colts behind Andrew Luck could certainly improve on last season's divisional round appearance; Cincinnati have plenty of all-round talent, especially if Andy Dalton lives up to his new $115million contract; Baltimore can prove last season was just a one-off aberration; and Philip Rivers has all his weapons fully healthy to start the year, and that could be a formidable combo in San Diego.
Chance
So, let's play a game of chance where we remove the pundits' Big Four (i.e. Seattle, New Orleans, Denver and New England) for reasons of unforeseen circumstance but statistical possibility. In such a fickle and parity-drive world as the NFL, probability says the obvious has a way of becoming obscure.
Put together an NFC final four of the Packers, Eagles, Falcons and Bears and let the winner be decided by the team with the best defence (considering that the Seahawks provided the blueprint in 2013), and you could certainly see Chicago and Green Bay going toe-to-toe.
All four teams figured in the bottom eight defensively last year, so they all have a lot of improving to do to get anywhere close to Seattle's gold standard, but Green Bay and Chicago have both done a huge amount of work on that score, including getting key players healthy again, and the two divisional adversaries could easily be XLIX rivals, too.
Over in the AFC, our stats-based model could create a divisional round of Indianapolis, Cincinnati, Baltimore and San Diego, with the Bengals and Ravens boasting the most suitable defensive capabilities to go with highly credible offences.
Green Bay or Chicago? Cincinnati or Baltimore? Suddenly, we are a LONG way away from the dull and predictable scenarios proposed by the vast majority. Aaron Rodgers v Andy Dalton? It doesn't take a lot to arrive at that particular desert duo come next February, and you could easily argue a case for both to be the victor.
What's that you say? Dalton has never won a play-off game, while the Packers gave up a whopping 5.9 yards per play last year?
True, but Peyton Manning had never won The Big One, until he did; and Green Bay boasted a stellar defence as recently as 2011, when they last triumphed in a game with Roman numerals on it. The seeds of success are still in place.
And, given that recent history of knowing what it takes to reach the pinnacle, I can see Mike McCarthy leading his troops to glory in Glendale. It would provide a neat trio of teams on five Lombardi wins (the Packers, Cowboys and 49ers), behind only Pittsburgh with six.
You could even make out a case for two of the other three to enhance their ring collection, as both San Francisco and Pittsburgh have many of the elements in place to mount another run.
Sadly, I think it is the only time you are likely to hear 'Dallas' and 'Super Bowl' mentioned in the same sentence this year. And, with Jerry Jones still comically bemoaning the fact he was over-ruled on drafting Johnny Manziel in May, there is another quote from Mark Twain that seems extremely apt in the circumstances:
"It is better to keep your mouth closed and let people think you are a fool than to open it and remove all doubt."
 And with that, it is definitely time to let loose the dogs of war.
The NFL returns on Sky Sports at 1am on Friday morning - watch Green Bay v Seattle on Sky Sports 1 HD