Super Seattle
Last Updated: 04/02/14 10:49am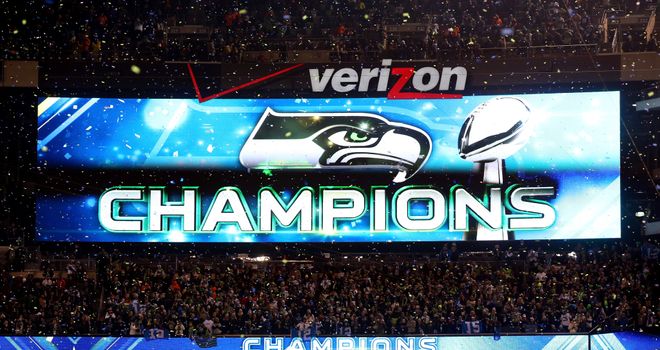 Seattle fans celebrate victory at MetLife Stadium
American Football Betting

American Football Betting

Bet with Sky Bet
The Seattle Seahawks turned on the style as they thumped the Denver Broncos 43-8 to lift Super Bowl XLVIII.
Far from being the close encounter between the two No 1-ranked teams - in terms of defence (Seattle) and offence (Denver) - the Seahawks never looked back after forcing a safety just 12 seconds at MetLife Stadium.
And following the stunning success we bring you the best of the action, reaction and opinion from New Jersey...
Seahawks run riot
The Seattle Seahawks produced one of the most dominant Super Bowl performances ever seen as they battered the Denver Broncos 43-8 to win their first Vince Lombardi trophy in New Jersey. It was one of the most eagerly-anticipated Super Bowls in recent times as Peyton Manning and Denver's record-breaking offence faced Seattle's top-ranked defence - but from just 12 seconds in it was all one-way traffic. Seattle's defence forced a safety on Denver's first play, and as soon as they sniffed blood they went on a rampage against the Broncos as they forced four turnovers, scored off a Manning interception and ran in an 87-yard kick-off return. Marshawn Lynch ran in from a yard out, Malcolm Smith returned the Manning pick 69 yards, Percy Harvin took the opening kick-off of the second half all the way to the house and Doug Baldwin and Jermaine Kearse also went in.
Wilson hails Seahawks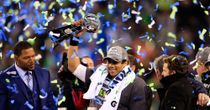 Russell Wilson
Quarterback Russell Wilson hailed a superb team performance as the Seattle Seahawks lifted the Vince Lombardi trophy for the first time with a 43-8 rout of the Denver Broncos. Wilson, who threw for 206 yards and two touchdowns, said: "Our preparations were unbelievable. It was a great team win. Special teams, Percy Harvin coming back with kick-off return, our defence was relentless, offensively we were clicking on all cylinders and that's what we wanted, especially in the last game of the season to finish that way in that fashion. That's our mind-set. We want to be champions every day."
Harvin has the X Factor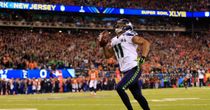 Percy Harvin
Percy Harvin provided that offensive X Factor many thought the Seattle Seahawks could be lacking in the Super Bowl, as he helped spark them to an amazing 43-8 destruction of Denver Broncos in New Jersey. "It's unreal right now," said Harvin after the game. "To even be here right now, I can't even explain it right now. It's incredible."
"It means everything to me," he added. "This team, the way they stood behind me, the way they backed me up all year, it means a lot to me."
Smith stunned at award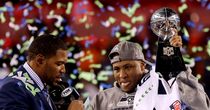 Malcolm Smith
Seattle Seahawks linebacker Malcolm Smith was shocked to hear he had been named Super Bowl's MVP following his side's 43-8 victory over the Denver Broncos. Smith went a long way to receiving the award when he intercepted Denver Broncos quarterback Peyton Manning and raced 69 yards to score, while he also recovered a fumble and made five tackles. "I always imagined myself making great plays but I never thought about being the MVP," he said. "I was just happy to be on the field."
Manning credits Seattle
Peyton Manning
Peyton Manning said Denver didn't "come anywhere close" to playing well enough to match Seattle in the Super Bowl in New Jersey. The NFL's MVP said: "I think we played a great football team. We needed to play really well in order to win, and we didn't come anywhere close to that. We weren't sharp offensively from the very get-go. The turnover on the first play of the game to give them a safety is not the way you want to start a game. For whatever reason, we couldn't get much going after that. Give Seattle a lot of credit. They are an excellent football team, and they caused a lot of our mistakes. At the same time we just didn't play well tonight."
Super Bowl analysis
Sky Sports writer Paul Higham looks back at how the Seattle Seahawks won Super Bowl XLVIII in New Jersey. "The old adage of 'defence wins championships' will now be rolled out again, and this win was built on that defence, but on this day, in this game, Seattle just put it together in all phases of the game - they're the first team to score a rush, pass, interception return and kick return touchdowns in the Super Bowl."