What they said
Last Updated: 03/02/14 7:04am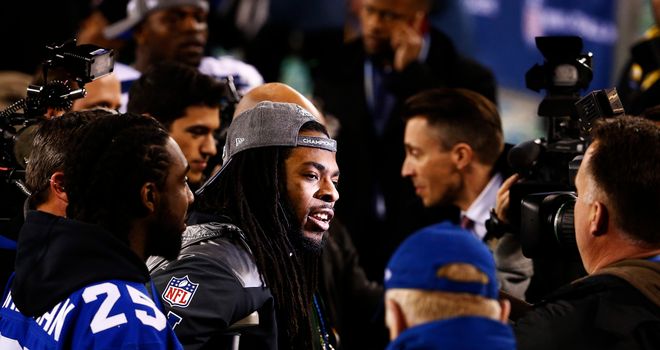 Cornerback Richard Sherman: Praised the Seattle defence
American Football Betting

American Football Betting

Bet with Sky Bet
Following the Seattle Seahawks' emphatic 43-8 win against the Denver Broncos to lift Super Bowl XLVIII we look back at best of the post-match reaction.
Seattle Seahawks head coach Pete Carroll: "We had a chance to shut them out. Unfortunately we didn't get that done but the score went big and that's what happens when you get ahead and you have the kind of guys out there on the field that will make plays when given the chances."
Seattle Seahawks linebacker - and Super Bowl MVP - Malcolm Smith: "It's just a tremendous feeling. We just have a great group of guys who feed off each other, guys with chips on their shoulder who have been overlooked."
Seattle Seahawks cornerback Richard Sherman: "You can't anticipate Peyton Manning having a bad game like that but we were able to affect him a little bit and make some big plays. Kam Chancellor played a great game and Malcolm Smith was very opportune, Byron Maxwell had a forced fumble and I think everybody played their behinds off and I think it was more about what our players did well then Peyton."
Seattle Seahawks wide receiver Percy Harvin: "It's unreal right now. To even be here right now, I can't even explain it right now. It's incredible."
Seattle Seahawks quarterback Russell Wilson: "We believed we could get here. We had the talent, we had the coaching staff, we had the best fans in the National Football League and we wanted to win it all. We continue to fight and continue to grow together. We have got great team-mates here and I couldn't have done it without the guys."
Denver Broncos quarterback Peyton Manning: "I think we played a great football team. We needed to play really well in order to win, and we didn't come anywhere close to that. We weren't sharp offensively from the very get-go. The turnover on the first play of the game to give them a safety is not the way you want to start a game."
Denver Broncos head coach John Fox: "I just think we ran into a buzz saw. We didn't play well enough to beat a very, very good Seattle Seahawks team. Hats off to Pete [Carroll] and his staff and his players as they played very well."
Denver Broncos centre Manny Ramirez: "It's just hard to have something like that happen in the beginning of the game. It was real loud and none of us heard the snap count. I thought I did and when I snapped it I guess Peyton was actually trying to walk up to me at the time, I'm not 100 per cent sure. It's unfortunate, things didn't go as planned."