Super Bowl XLVIII: Who can stop Peyton Manning winning MVP in New York
By Paul Higham Twitter: @SkySportsPaulH. Last Updated: 31/01/14 7:36pm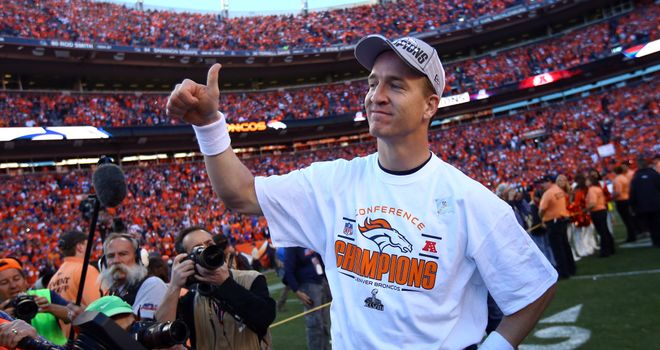 Peyton Manning of the Denver Broncos
American Football Betting

American Football Betting

Bet with Sky Bet
Can anyone stop Peyton Manning from powering away with his second Super Bowl title and the MVP to boot? Well there are a few options but I'd say it's safe to assume if Denver lift the Vince Lombardi trophy their QB will be going to Disneyland.
We do have to go through the field as despite Denver being favourites, they are the slightest of slight favourites as the top two teams in the NFL meet in the Super Bowl for just the second time in the last two decades.
Manning is the overwhelming 10/11 favourite with Sky Bet, and that's no surprise really - as I'd be absolutely amazed if Denver won the Super Bowl without him being awarded the MVP.
The 37-year-old has been smashing records left right and centre this season for passing yards, passing touchdowns and total points as part of the Denver offence, but this Sunday they do come up against the No 1 defence in the NFL this season.
Everything goes through Manning though, and his 'coach on the field' role calling the plays from the line, his superb career and his comeback story off neck surgery means he's a shoe-in for MVP if Denver win - he could even be in with a shot if they lose!
Best of the rest
I really wouldn't go looking for anyone else on the Denver team, with the Broncos being the first team to have five players with 10+ TD catches they certainly spread the ball around, and even if Demaryius Thomas (28/1) or Wes Welker (40/1) have 200 yard games and three scores, they will all have come from Manning's arm.
Russell Wilson leads the way for Seattle, with the QBs always getting the credit for a Super Bowl win. Denver will not want to be torn up by marauding running back Marshawn Lynch - he's 5/1 in the market and I'd fancy him to score at least once - but Denver will have him singled out as the biggest danger so he may find it tough going.
Wilson is 9/4 and when talking to the media around New York it looks fair as Denver will try and cut out the running game and force the second-year man to go out and win a Super Bowl with his arm - but Wilson's scrambling ability means he could also use his legs to good effect.
The Legion Of Boom Seattle defence would love an award for themselves, but if you had to single one out it'd be Richard Sherman, who leads the league in smack talk but also in interceptions with eight this season.
With his larger than life personality, and his brilliant cover skills, a couple more interceptions and a game-winning tipped pass like he did against the 49ers to get Seattle into the Super Bowl could land him the gong at 28/1 - my worry would be that Manning will go nowhere near him with his throws unless he absolutely has to.
A not-so-darkhorse, as he's fourth in the market, but Percy Harvin is an interesting one at 28/1 and would be a great story after suffering a injury-ravaged season following his big move from Minnesota Vikings.
He's had hip surgery and a concussion, and word is he's one of the more fragile players out there, but he's also one of the most dynamic - and can break a play from anywhere with his pace and elusiveness.
Give his highlight-reel ability, and if he can stay fit for the full game, in a cold, tight Super Bowl affair in New York, he could well provide the one spark that gives the Seahawks the Vince Lombardi trophy and walks away with the MVP.