NFL Power Rankings 13: Simon Veness rates the gridiron teams
As we edge closer to the play-offs, Simon Veness rates the gridiron teams in his NFL Power Rankings.
By Simon Veness
Last Updated: 03/12/13 11:35am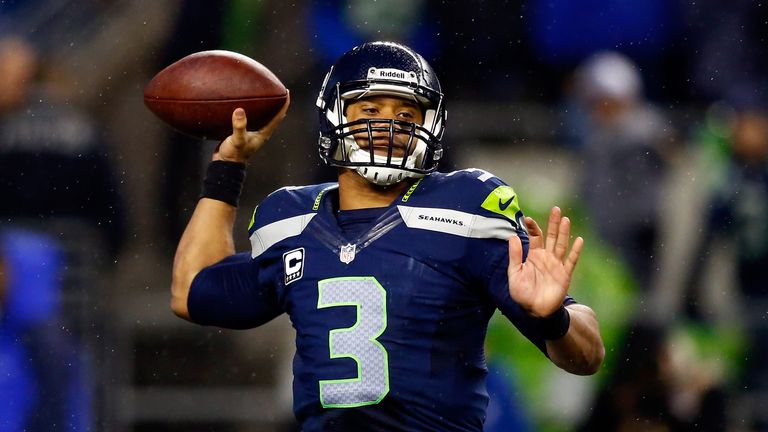 Each week Simon Veness runs the rule over all 32 teams to decide if they are Champions League material, Premier League, Championship quality or down among the Conference dead men, with 'relegation' and 'promotion' between the four divisions.
Our top six are now firmly fixed as the 'Teams Most Likely to be in New York on February 2', while the likes of Arizona, Tennessee, Chicago, Pittsburgh, New York Jets, San Diego and St Louis have all taken a serious dive.
Champions League - The Elite Eight
1. Seattle (no change): If there was a weakness in the rout of the Saints, it was probably in the half-time tea (American tea is truly lousy). And, if Russell Wilson was any more poised, he would be the Heisman Trophy. No second-year passer should be this slick. #coolcalmandcollected
2. Carolina (up 1): Their play-off place now looks secure but either they or the Saints (or possibly both) are going to end up with a bloody nose as they face off twice in the next three weeks. #brutal
3. New England (up 1): OK, so the defence may be held together with spit and string (conceding 117 points in their last four), but the offence is clicking up through the gears and Tom Brady's motto is clearly "In Gronk We Trust." #Gosh-kowski.
4. Denver (up 1): No Julius Thomas? No problem. Eric Decker, only three TD catches in the first 11 games? Here are FOUR more. Peyton Manning 41 TDs, and counting. And only four games left, against teams with losing records. Time to warm up Mile High for a home play-off game. #deadcert.
5. New Orleans (down 3): That's two trips to CenturyLink and 75 points conceded. And the road to XLVIII most surely goes through Seattle now - where Drew Brees was just held to his lowest passing yardage since 2006 and the Saints were pummelled on both sides of the ball. #woodshed.
6. San Francisco (no change): If Seattle v New Orleans was a heavyweight mauling, 49ers-Seahawks this week could be hazardous for the San Andreas Fault. Both defences are now at 11 and that spells a seismic showdown at The Stick. #earthquake
7. Philadelphia (PROMOTED - up 3): If the Eagles could play the final quarter like they play the first three, they'd be a lock for the play-offs. But just 10 fourth-quarter points in the last six games (and NONE in the past four) suggests there is some fine-tuning to be done to justify this ranking. #Play60
8. Kansas City (down 1): They were only one fourth-down pass from taking the Broncos to overtime and panic is not in Andy Reid's vocabulary despite three successive defeats. Mind you, neither is a rousing up-and-at-'em motivational speech. #walkonthemildside
Premier League - The Play-Off Hopefuls
9. Cincinnati (no change): Great win, on the road, against a fellow-contender, so why no promotion? Andy Dalton is still mixing TDs and turnovers at almost a 1:1 ratio (22:19) and, with four tough games to finish with, that's not a winning formula. #someonecoverAJGreen!
10. Detroit (up 4): Two wins should be enough to wrap up the NFC North. Then Matt Stafford simply HAS to cut out the INTs (10 in the last five games, plus a fumble) or their first play-off game will also be the last. #turnovermachine.
11. Dallas (no change): Many people see the Week 17 home game with Philly as THE key to the NFC East. Not so fast. The Cowboys' next three - Chicago, Green Bay and Washington - are far more relevant. Get to 10-5 and the division could well be theirs. #bearhug.
12. Baltimore (up 3): Here's the reason the Bengals can afford absolutely NO slip-ups. Week 17 at home to these Ravens, who suddenly have a bit of swagger back in their stride. #ominous.
13. Indianapolis (down 1): The Colts are still only one game out - amazingly - for the second seed in the AFC, but Andrew Luck might not be there to enjoy it unless the offensive line can do a better job of protecting Indy's most vital asset. #handlewithcare.
14. Arizona (RELEGATED - down 6): Complaints about the officiating sound a little hollow when your quarterback turns the ball over three times but, in truth, this was a game the Cards could not afford to lose with their final two against Seattle and San Francisco. #desertwhine.
15. Chicago (down 1): Just to prove that giving up 258 yards to the Rams wasn't a fluke, the Bears allowed Adrian Peterson to run all over them for another 211, meaning Chicago is now conceding more than 156 yards per game on the ground - at a stunning 5 yards per carry. Just to prove his defence weren't the only boneheads, head coach Marc Trestman called for a 47-yard field goal try in overtime, on SECOND down. #defenceless.
16. Miami (PROMOTED - up 7): You see what happens when you keep Ryan Tannehill (mostly) upright? And, before you say it was just the Jets, Rex Ryan's men averaged 3 sacks per game and their defensive line is largely the heart of the team. At half a game out of the wild card race, the Dolphins also have plenty of reason to keep their quarterback in one piece. #surprisesurprise.
Championship - The Play-Off Hopeless
17. NY Giants (up 4): Technically, the Giants are still alive, but here's what they need to be still playing in January - four wins, plus three losses by Philly and three by Dallas, including a Cowboys defeat against the Eagles in the final week. Sound likely? #notvery
18. Pittsburgh (RELEGATED - down 2): Defeat at Baltimore was costly enough, but Mike Tomlin's badly-timed sideline wanderings during a Jacoby Jones kick return could be even more expensive for the Steelers head coach. #watchwhereyou'restanding
19. San Diego (down 1): Three of the strangest turnovers you are likely to see, including two on wide receiver fumbles, plus a series of horrible drops doomed the Chargers to another season of futility. #teflonteam
20. Tennessee (down 1): Well, that was a brief stay in Wild Card territory. For the Titans to get back in the picture they are going to have to win at least three of their final four - and their next three are Denver, Arizona and the revived Jaguars. #maybenextyear
21. St Louis (down 1): There were plenty of lowlights for the Rams in their must-win showdown at San Francisco but the fake punt fiasco was probably the best. #justplainugly
22. Green Bay (down 5): The more they play without Aaron Rodgers, the worse they get, and now they're talking about shutting the injured QB down for the season. #aquarterbackplease?
23. Tampa (down 1): Better teams than the Buccaneers have come to a screeching halt against the Panthers defence. If Greg Schiano's men chalk this one up to experience, the second half of the season may not be a wasteland. #chastening
24. Minnesota (PROMOTED - up 3): I know I wondered last week about how much Arizona might have benefitted from drafting Adrian Peterson instead of Levi Brown, but how did SIX teams pass on this absolute sure-fire Hall of Famer in 2007? #shocking
Conference - Down Among The Dead Men
25. Jacksonville (up 6): It wasn't so much the fact the Jags beat up on human punchbag Brandon Weeden (who managed three turnovers in the final three minutes of the first half) but that they scored 32 points against a tough-as-nails defence. #stillscrapping
26. Atlanta (up 3): Rare sightings of Steven Jackson and Roddy White (two TDs and 227 yards between them) gave Falcons fans a hint of what might have been. But the defence still gave up a whopping 405 yards to Buffalo to show they still need plenty of help in the next Draft. #flightlessbirds
27. NY Jets (RELEGATED - down 3): If Rex Ryan REALLY thinks Geno Smith is still the long-term answer at QB after 19 interceptions in barely 12 games and a 54% completion percentage (and just 29 completions in his last 4 games), he probably also believes in a bearded fat man in a red suit at Christmas. And yes, Peyton Manning had 28 INTs in his debut season with Indy, but he also threw 26 TDs for an equally poor team in 1998. #woegeno
28. Buffalo (down 2): Of all the rookie QBs this season (and, admittedly that's not a big sample), EJ Manuel has probably fared the best and can at least look back on a positive TD-INT ratio (9-4). #seeyounextyear
29. Oakland (down 4): The good news? A 21-7 first-half lead. The bad? Just about everything else. If the Raiders are set at ANY position, it's not very clear right now. #backtothedrawingboard
30. Cleveland (down 2): Somewhere this season there will be an All Futile XI of players stuck in lost causes. Josh Gordon, with six games of 100-plus yards receiving (and 623 yards with four TDs in his last THREE) will be captain. #allalone
31. Washington (down 1): For half a game we saw the real Robert Griffin III as the Redskins charged into a 14-0 lead against the Giants. But then the wheels fell off again. Hard to see where this team goes from here. #sameoldstory
32. Houston (no change): Signs of (belated) life, with the Texans putting up 31 points for the first time since the first game of the year. Equally, there were signs the defence has all but imploded this season. #openandshutcase