Sky Sports Fantasy Football: Win a trip to New York for the Super Bowl
By Alex Williams. Last Updated: 21/11/13 11:03pm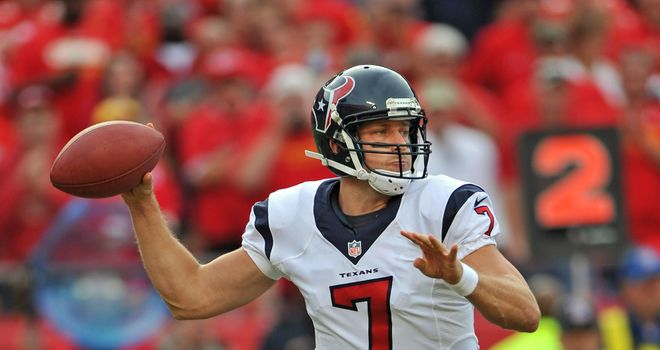 Case Keenum: Set for a big day against the beleaguered Jaguars
American Football Betting

American Football Betting

Bet with Sky Bet
Just six weeks remain for you to become a fantasy NFL weekly winner and be entered into the Grand Prize Draw for a trip to the Super Bowl.
Our game in association with the NFL UK is all about spending wisely, and you can enter at any time during the season and still be in with a chance of going to the Big Apple.
Click here to enter our Fantasy Football competition
Weekly winners will all go into the draw for the superb first prize, while the overall winner of the wild card league will also stand a chance. Pick a wild card player every week from the two games shown live on our Sky Sports Sunday double-header.
Week 11 Team of the week: I wanna man hug BIG KEV!
Will the owner of this team be given their wish of a little affection from Sky Sports' expert Kevin Cadle after a spectacular fantasy performance in Week 11? The choice of Case Keenum at quarterback did not pay off as the inexperienced Texans signal caller was benched during the game, but the four selected players at running back and wide receiver combined for a whopping eight touchdowns. Drew Brees was solid in the wildcard slot, while the Bengals defence came up huge with a fumble return and a blocked punt return for touchdowns.
Win a trip to New York!
You can enter our Fantasy Football competition at any time during the season and still be in with a chance of winning the trip to the Super Bowl.
QB: Case Keenum 8
RB: LeSean McCoy 26
RB: Marshawn Lynch 23
WR: Calvin Johnson 29
WR: Vincent Jackson 22
TE: Julius Thomas 10
DEF: Bengals 25
K: Nick Novak 12
Wildcard: Drew Brees 14
Total points: 169
Top performers
Ben Roethlisberger has not had the best of seasons so far but topped the quarterback scoring in Week 11 as he threw for 367 yards and four touchdowns in the Steelers' victory over the Lions on Sunday. Another unlikely name comes in second among the signal-callers, with Jacksonville's putrid defence being just the tonic for Cardinals QB Carson Palmer, who threw for 419 yards and two touchdowns.
The surprises continue in the running back category. Bobby Rainey started the season as Tampa Bay's third or fourth string running back but after injuries to Doug Martin and Mike James, he exploded for 163 yards and two touchdowns on the ground as well as a receiving score. Marshawn Lynch also scored three touchdowns, while LeSean McCoy ran in two while having 150 yards from scrimmage.
Calvin Johnson exploded early on against the Steelers, racking up 179 receiving yards and two touchdowns before half-time. It seemed Megatron could be on track for an all-timer of a performance, but Pittsburgh amazingly shut him out completely after the interval. Antonio Brown had 147 receiving yards and two touchdowns, while Michael Floyd torched Jacksonville's secondary for 193 yards and a score.
Three more surprise packages topped the tight end rankings, Houston's Garrett Graham hauled in 136 receiving yards and a touchdown for a tally which would have been even more impressive if not for a lost fumble. Delanie Walker and Charles Clay both had over 90 yards and a touchdown.
The Bengals were way ahead in the defensive category with two touchdowns, three interceptions, four sacks and a fumble recovery, while Buffalo kicker Dan Carpenter kicked four extra points and three field goals.
Week 12 picks
Drew Brees has thrown for over 300 yards in each of his last four outings and this week gets to go up against a Falcons side in free fall. He seems to be this week's top play, but will cost top dollar at $4 million. Those wanting a little more value could look to Matthew Stafford ($3m), who is third in average scoring among QBs and battles the below-par Buccaneers.
Colin Kaepernick ($3m) could be another good play against Washington's awful defence, but the best-value play at QB could be Case Keenum, who will start against the terrible Jaguars and costs just $1m.
Following along on the same logic, running back Ben Tate costs just $2m and goes up against Jacksonville's league-worst rush defence. The Rams' Zac Stacy is a bargain at $1m as he gets to tee off on the Bears, ranked above only Jacksonville in terms of running yards conceded per game.
If you prefer proven quality, Jamaal Charles ($4m) should have his way with a reeling Chargers defence.
Those of you who have been playing Calvin Johnson ($4m) every week may want to reconsider this time as he is up against Darrelle Revis, who has not been as effective in the Bucs' secondary but will be out to prove a point.
Victor Cruz ($3m) of the Giants gets a match-up with the league's worst-rated pass defence, while Vincent Jackson ($3m) will face a similarly porous secondary when the Bucs play the Lions. Andre Johnson ($3m) gets to play the Jaguars.
Josh Gordon ($2m) and Keenan Allen ($1m) are perennial value picks, but the latter goes up against the fearsome Chiefs' defence this week.
Denver tight end Julius Thomas ($1m) has been a revelation this season and should be selected every week. The Saints' Jimmy Graham ($4m) should have a field day with the Falcons, but the better value definitely lies with Thomas.
The Chiefs defence is also only $1m but has to face a high-charged San Diego attack, meaning the Panthers ($1m) could be a better pick this week against the more subdued Dolphins.
High-scoring quarterbacks are always the best wildcard picks, so go with Tony Romo against a Giants defence that seems to be improving but should not be able to stop the Cowboys.
Pick a kicker in a serviceable offence who costs $1m, Robbie Gould of Chicago should do.