Sky Sports Fantasy Football: Win a trip to New York and the Super Bowl
By Paul Higham Twitter: @SkySportsPaulH. Last Updated: 08/11/13 6:24pm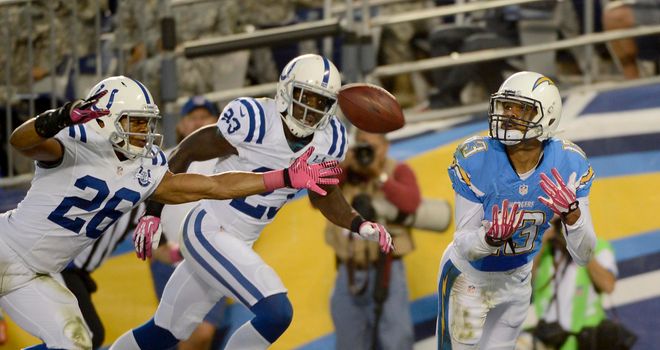 Keenan Allen is a bargain selection for the San Diego Chargers
American Football Betting

American Football Betting

Bet with Sky Bet
We're in to week ten already! But that still means eight weeks of action left to play and eight more chances for you to win a trip to New York if you enter our Fantasy Football competition.
Our game in association with the NFL UK is all about spending wisely, and you can enter at any time during the season and still be in with a chance of going to the Big Apple.
Click here to enter our Fantasy Football competition
Weekly winners will all go into the draw for the superb first prize, while the overall winner of the wild card league will also stand a chance. Pick a wild card player every week from the two games shown live on our Sky Sports Sunday double-header.
Team of the Week: Jockos Giants
Firstly an inspired choice at the wildcard from our winner who chose the record-equalling Nick Foles who carved the Oakland Raiders apart in a Philadelphia Eagles blowout to the tune of seven touchdown passes, 406 yards and no interceptions - not bad for a back-up.
Wide receiver DeSean Jackson was a beneficiary of Foles' production as he brought home 21 points for our winner, along with the Chiefs defence who surrendered just 12 points to the Bills and scored two TDs.
Win a trip to New York!
You can enter our Fantasy Football competition at any time during the season and still be in with a chance of winning the trip to the Super Bowl.
QB: Tony Romo 19
RB: Eddie Lacy 21
RB: LeSean McCoy 13
WR: Keenan Allen 18
WR: DeSean Jackson 21
TE: Jason Witten 16
Def: Chiefs 22
K: Alex Henery 7
Wildcard: Nick Foles 45
Total Pts: 182
Top Performers
Foles' display was amazing and unexpected - but he was not the only back-up pulling out all the stops as Case Keenum stepped up with 350 yards and three first half TDs for Houston - all to receiver Andre Johnson who had a stellar game with 229 yards receiving.
Other hat-trick scorers included Riley Cooper of the Eagles, TY Hilton of the Colts and Jerricho Cotchery of the Steelers.
Tom Brady finally looked a bit more like Tom Brady with four TDs and 432 yards against the Steelers, with Danny Amendola, Aaron Dobson and Rob Gronkowski all having huge games as a result - it's a shame the Pats now sit out the week on a bye.
Another man returning to form was Titans running back Chris Johnson who found the end zone twice and put up 150 yards on the Rams - although that was ironically almost matched by his opposite number Zac Stacy who also barged his way over twice in his 127-yard effort.
Week 10 picks
If Chris Johnson can do that to the Rams, he should do the same and more to the Jaguars this Sunday in a run-heavy team against a team pretty poor at stopping teams on the ground.
The injury to Aaron Rodgers hurts the Packers and their receivers, but it should boost Eddie Lacy's numbers against Philadelphia, while DeMarco Murray looks on for a big day if the Cowboys can follow the Jets' blueprint from last week and expose a weakness in the Saints' run defence.
Our live games should offer plenty of options to select from with three Top 10 offences on view while all four teams rank in the bottom 12 of the league, almost guaranteeing some big points on offer - hopefully that's not jinxed it!
The wildcard is tricky, but with the top-level Fantasy players you want Peyton Manning in there and Calvin Johnson then able to be a big-money man in your team proper. Philip Rivers is then a good play at QB with Matt Stafford facing the tougher assignment of the two against Chicago.
Matt Forte and Reggie Bush should see plenty of the ball in the first game in Chicago, and the usual suspects on the Denver team such as Wes Welker and tight end Julius Thomas are also pretty safe plays.
The thrifty among you should plump for Chargers wiedout Keenan Allen who is just $1m but has emerged as their top receiver and gets a very generous Denver secondary to carve up.