NFL Fantasy Football: Sky Sports picks out the best bets for this week
Last Updated: 18/10/13 8:57pm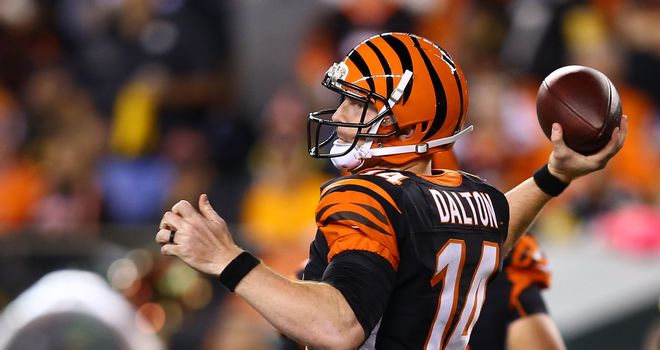 Andy Dalton: Starred against the Buffalo Bills - can he do the same against the Lions?
American Football Betting

American Football Betting

Bet with Sky Bet
Can you believe we are week seven of the NFL season already? For the teams it might be time to panic, but fantasy players know that they still have plenty of chances to win.
Our game in association with the NFL UK is all about spending wisely, and you can enter at any time during the season and still be in with a chance of going to the Big Apple.
Click here to enter our Fantasy Football competition
Weekly winners will all go into the draw for the superb first prize, while the overall winner of the wild card league will also stand a chance. Pick a wild card player every week from the two games shown live on our Sky Sports Sunday double-header.
Team of the week: 'Big Black Violators' & 'chillyIce'
We had a tie! 191 points apiece to our dual winners for week six, with both teams boosted by big weeks from Knowshon Moreno, Vernon Davis and the Kansas City Chiefs defence.
Drew Brees was also a common link, though many would have expected more than the 16 points he mustered against the New England Patriots. Crucially, the pair had double-digit tallies from all their players, including kickers.
QB: Terrelle Pryor - 12pts
RB: Jamaal Charles - 24
RB: Knowshon Moreno - 28
WR: Wes Welker - 12
WR: Jordy Nelson - 17
TE: Vernon Davis - 0
Def: KC Chiefs - 26
K: Robbie Gould - 11
Wild card: Drew Brees - 16
Total: 176 pts
QB: Drew Brees - 16
RB: LeSean McCoy - 14
RB: Knowshon Moreno - 28
WR: Josh Gordon - 12
WR: Justin Blackmon - 19
TE: Vernon Davies - 30
Def: KC Chiefs - 26
K: Nick Novak - 15
Wild card: Aaron Rodgers - 16
Total: 176 pts
Top performers
Surprisingly in the pass-happy NFL these days, only four quarterbacks topped 300 yards passing last week, and two of those - Green Bay's Aaron Rodgers and Joe Flacco of Baltimore - were going up against each other.
Another to impress in week six was everyone's favourite flame-haired thrower, Andy Dalton. The Cincinnati Bengal torched the Buffalo Bills for 337 yards and three touchdowns in a game that went to overtime.
Matthew Stafford rallied from a mediocre first half to finish with four TD passes for the Detroit Lions in their victory over the Cleveland Browns, while Nick Foles showed that there is life for Philadelphia without Michael Vick in the Eagles' triumph in Tampa Bay.
Speaking of life, Brandon Jacobs showed he's not ready for the running back scrapheap with two touchdowns and 106 yards for the now 0-6 New York Giants.
Moreno went one better for the Denver Broncos, finding the end zone three times on the ground whilst also adding 62 yards receiving.
We've already highlighted tight end Davies' monster day (he had 180 yards receiving and a two scores) yet there were also productive days for the NFL's Jackson Two, Vincent and DeSean, as they both bagged a pair of TD catches.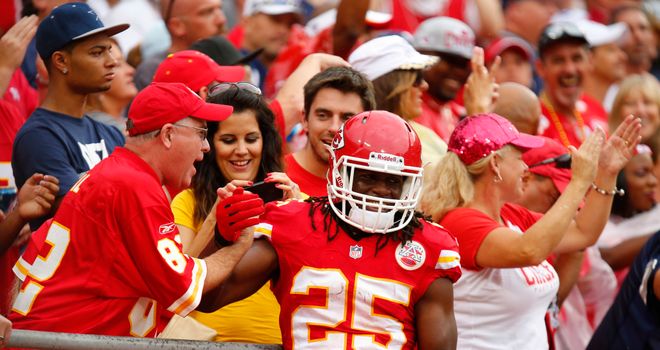 Jamaal Charles: A threat on the ground and through the air for Kansas City
Week seven picks
And now onto this weekend. With New Orleans on a bye there is no chance to select Brees at quarterback. Oakland also have the week off, while the Seattle Seahawks and Arizona Cardinals played on Thursday night.
The stand-out fixture takes place late on Sunday evening, as Peyton Manning returns to Indianapolis to take on his former team. The Denver Broncos are unbeaten, but the Colts will fancy getting the better of their old quarterback on home turf. I wouldn't want to put my neck on the line trying to predict a winner, nor Peyton's. Hard not to see points aplenty at Lucas Oil Stadium.
There could be a quarterback shoot-out in Washington too, as the Chicago Bears head to the capital to face the Redskins and their porous defence.
However, let us focus on the two Sky live games on Sunday and try to help out with your wild-card selection.
Win a trip to New York!
You can enter our Fantasy Football competition at any time during the season and still be in with a chance of winning the trip to the Super Bowl.
First up is the Cincinnati Bengals at the Detroit Lions. As already mentioned, QB duo Dalton and Stafford had solid displays last week, though the latter will hope that wide receiver Calvin Johnson is somewhere near to full fitness again.
Both men are options, but the second instalment of our double-header looks likely to produce points on the ground, rather than through the air.
The Houston Texans have announced that Case Keenum will be their starter under centre with Matt Schaub not fully fit and T.J. Yates' pick-six on his first series last Sunday against St Louis Rams seeing him demoted down further.
Now I'm not doubting Keenum, despite the fact he went undrafted, but his first start just so happens to be against the best defence in the NFL. Expect him to lean heavily on tail-backs Arian Foster and Ben Tate.
Alex Smith is a seasoned pro these days, but the Chiefs quarterback mustered only 128 passing yards in the win over the Oakland Raiders.
The star of that game was instead Jamaal Charles, as he rushed for two touchdowns. He is also an important part of a passing game that focuses on short throws to move the chains. And with a Keenum in town, Kansas City's D will be a popular play in fantasy. It's tough to make a case for Case, really.
Oh, and a late note. Tight end Rob Gronkowski has been deemed fit by doctors to play for New England. Finally, after a lengthy wait, the Patriots might have their biggest aerial weapon available.