NFL Fantasy Football: Sky Sports picks out the big names to target in Week Five
By Paul Higham Twitter: @SkySportsPaulH. Last Updated: 04/10/13 2:30pm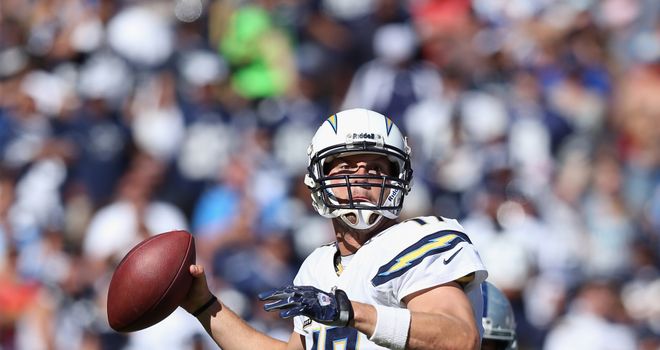 Quarterback Philip Rivers is your wildcard this week
American Football Betting

American Football Betting

Bet with Sky Bet
Another week down but still another week rolls around when you can still enter Fantasy Football and be in with a chance of winning that trip to the Super Bowl in New York.
Our game in association with the NFL UK is all about spending wisely, and you can enter at any time during the season and still be in with a chance of going to the Big Apple.
Click here to enter our Fantasy Football competition
Weekly winners will all go into the draw for the superb first prize, while the overall winner of the wild card league will also stand a chance. Pick a wild card player every week from the two games shown live on our Sky Sports Sunday double-header.
Team of the week: Crawley90
An inspired performance from our winner this week, with that man Peyton Manning yet again doing all sorts of damage against the Eagles this time to net 29 points and put all of his owners at least in with a chance of doing something special.
Victor Cruz also bounced back with a huge game in Kansas City despite another loss for the Giants while putting the Colts defence in against the lowly Jaguars was also another shrewd move - you could argue for anyone against the Jags these days!
QB: Peyton Manning - 29pts
RB: Adrian Peterson - 26
RB: Darren Sproles - 23
WR: Anquan Boldin - 15
WR: Victor Cruz - 22
TE: Julius Thomas - 4
Def: Colts - 23
K: David Akers - 16
Wild card: Philips Rivers - 26
Total 184 pts
Top performers
A bit like a broken record here, but it helps writing every week knowing Peyton Manning is going to shred any defence put in front of him, this time 327 yards and four TDs against the Eagles, but even he was outdone by Drew Brees' efforts with 413 yards and four scores as well - it all made Philip Rivers' 400-yard, three-TD effort seem rather ordinary.
Adrian Peterson thrilled fans at Wembley, especially those that had him in their team, as you've kind of got to do if you can afford him, with dual-threat backs Reggie Bush and Darren Sproles both having monster games for Detroit and New Orleans. Tight end Tony Gonzalez also went crazy last week with a whopping game against the Pats - even somehow knocking Jimmy Graham off his perch, for now.
Week five picks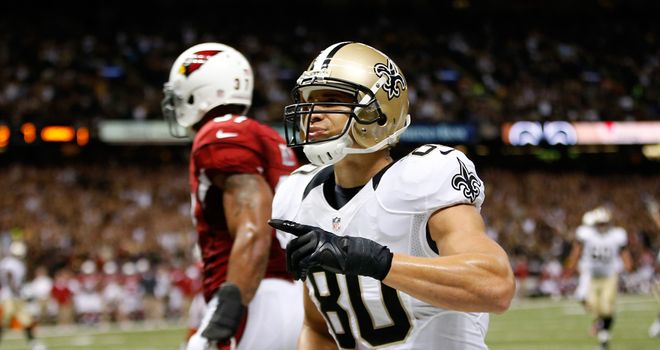 Jimmy Graham is in frightening form for the Saints
We'll start with the wildcard here because it's an easy choice of Peyton Manning, yet again, as Denver play in our second live game against a Dallas defence which is amongst the best in the league - the best at giving up fantasy points to opposing QBs that is! Get him in your team....
With the QB slot free then Philip Rivers is your man, with a $3m price tag, form in the book, and a decent match-up against Oakland then the scene is set for more fantasy goodness from the Chargers triggerman. Michael Vick should enjoy his day out in New York against the Giants, while if you're really struggling for cash, Terrelle Pryor is only $1m and the Chargers love handing out fantasy points to QBs.
Win a trip to New York!
You can enter our Fantasy Football competition at any time during the season and still be in with a chance of winning the trip to the Super Bowl.
Speaking of giving away points, the Eagles have been a superb match-up for opposing wide receivers this season, and with Victor Cruz enjoying a big game last week, it's safe to say he's due another tasty haul in a game which could yield plenty of points for both sides.
The Giants have hardly been defensive masterminds themselves this season, so despite a couple of bad weeks DeSean Jackson could get back into the groove, but if you're after a high-priced Eagle then LeSean McCoy is more likely your man given his huge workload in Chip Kelly's offence.
Tight end Julius Thomas went without a TD for the first time last week, but don't worry our $1m bargain of the season should get back on track at Dallas> If you work your team right to get Jimmy Graham in there at $4m then do it - he's a receiver in all-but name, and the best one at that given his eye-popping numbers so far this season.
Antonio Gates is enjoying his and Rivers' renaissance and is just $2m so should provide good value for money also. While one final word for Reggie Bush, who gets a good match-up against Green Bay and with his knee problems looking behind him should be in for another big day.
Think you can do better? Let us know your Fantasy Football tips, picks of success stories and anything else NFL related via the feedback section below. Remember you can still join and win a Super Bowl trip by entering Here.