NFL: New York Jets sign Chris Johnson after release from Tennessee Titans
By Paul Higham Twitter: @SportsPaulH. Last Updated: 17/04/14 9:33am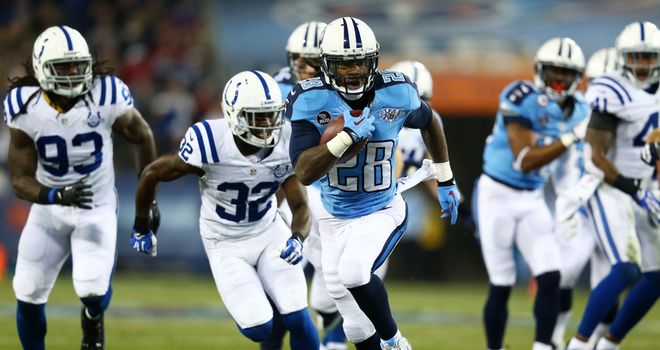 Chris Johnson joins the Jets from the Tennessee Titans
American Football Betting

American Football Betting

Bet with Sky Bet
The New York Jets hope to have a revival season next season, and part of that could rest on the shoulders of newly-signed running back Chris Johnson, who is eager to prove he is still the man who joined the 2,000-yard club.
Johnson rushed for 2,006 yards in a stellar 2009 campaign, earning his CJ2K nickname, but he did not manage to replicate that form in the following seasons with the Tennessee Titans.
Awarded a new six-year, $54m deal in 2011, Johnson's effectiveness has been on the slide ever since, although it must be noted that he has never failed to reach 1,000 yards in any of his six seasons in the NFL.
Despite that production, the Titans opted to part company with the 28-year-old, who almost joined the Jets in a trade before eventually signing on as a free agent.
Jets general manager John Idzik thought the asking price in trade terms was too high, but was happy to hand out a two-year contract worth $8m in base salary for Johnson, with several incentives based on production added in.
Chip on his shoulder
Johnson has had off-season knee surgery, but passed his physical with the Jets - who hope the combination of a change of scenery and a desire to prove the Titans wrong will fire him back into his 2,000-yard form.
"I have a fresh start. Now I am going to go out there with a chip on my shoulder," Johnson told The Tennessean. "I know a lot of people are doubting me. I want to prove everybody wrong who has doubts in me."
Johnson may not be the backfield leader in Rex Ryan's team, with Chris Ivory and Bilal Powell already there, but he offers huge big-play ability and electrifying pace to compliment Ivory's bruising running style.
He played through his knee injury last season, with durability not an issue after starting 93 of 95 games with the Titans and scoring 50 touchdowns.
The Jets should be a run-first team next year, especially if Geno Smith starts at quarterback ahead of Michael Vick, and they now have plenty of options in their backfield.