NFL: Miami Dolphins sign running back Knowshon Moreno
The Miami Dolphins have completed the signing of free-agent running back Knowshon Moreno.
Last Updated: 29/03/14 12:53pm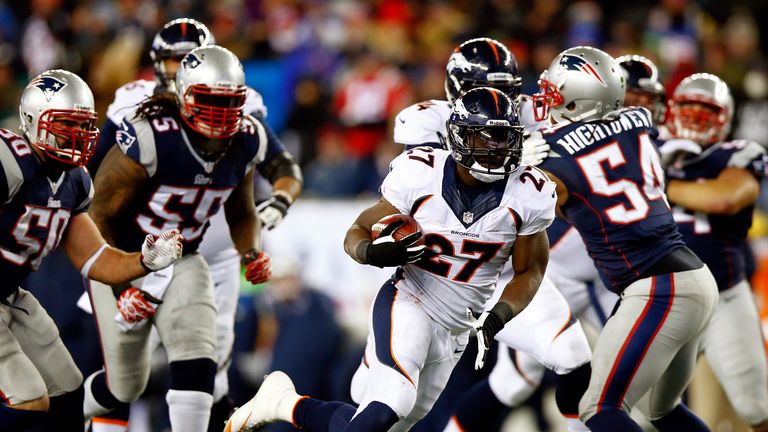 The 26-year-old is coming off a career-best season with the Denver Broncos, last year, rushing for over 1,000 yards on 241 carries and scoring 10 touchdowns.
Moreno also added three receiving touchdowns and became the first player in Broncos history to top 1,000 rushing yards and 500 receiving yards in the same season.
But reports from Denver suggest that Montee Ball will be given the starting job next season, and Moreno has decided to compete with Lamar Miller and Daniel Thomas for the lead role with the Dolphins.
Miami general manager Dennis Hickey said: "I would like to welcome Knowshon Moreno to the Miami Dolphins.
"Knowshon is an experienced, productive, three-down player and adds another multi-threat to our backfield. He is an accomplished 1,000-yard rusher who also caught 60 passes out of the backfield last season as well.
"We are excited about the contributions he will make to our offense and he's a tough, passionate football player, the type of mentality that we're continuing to add to our team."
Extra training
Moreno, who lost out on a Super Bowl ring after the Dolphins were crushed by Seattle in February's showpiece, has signed a one-year contract and is looking forward to pre-season drills with his new team.
"I think the main thing was just getting the opportunity to go down and meet with the coaches and meet with the different people working at the facility and just build a sure relationship with those guys," said Moreno.
"When I get out there I'm going to work hard, do what I have to do to learn the new system and meet the new guys and build a relationship and get to work from there.
"I just did some good things throughout the off-season, getting in and making sure I was doing the right things for my body.
"I was doing the extra things after practice and before just to make sure I was on top of things."
Moreno also believes Dolphins head coach Joe Philphin shares many attributes with his former Denver boss John Fox.
"They're both family guys and both genuine, player kind of guys," he said. "They're just good people. You really want to be surrounded by good people and it's no different with the Dolphins."