NFL: Oakland Raiders want Menelik Watson as starter, could move to LA
By Paul Higham Twitter: @SkySportsPaulH. Last Updated: 26/03/14 10:10am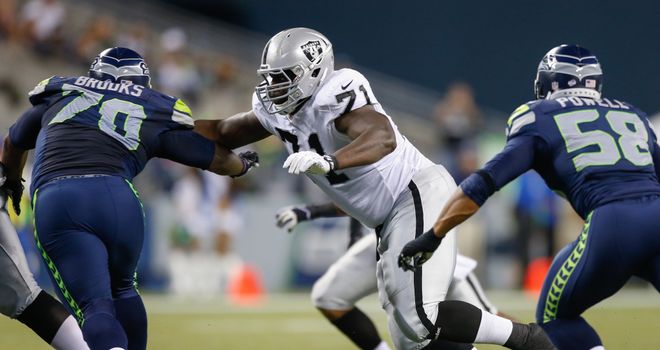 Menelik Watson of the Oakland Raiders blocks against the Seattle Seahawks
American Football Betting

American Football Betting

Bet with Sky Bet
The Oakland Raiders have been making waves during the off-season, with big free agency moves in a bid to rebuild their ailing franchise, but among all the chopping and changing their could be good news for Menelik Watson and the hint of a future move to Los Angeles.
Oakland trading a sixth round Draft pick to bring in Matt Schaub from Houston raised more than just a few eyebrows, but coach Dennis Allen has insisted they believe their new quarterback can rediscover his form of old.
Schaub was a shadow of his former self last year but Allen says the team fully believe they have brought in a quarterback that can help them challenge in the AFC West.
"We have a quarterback now that's on par with the quarterbacks in this division," said Allen, and when you're in a division that has Peyton Manning and Philip Rivers in it then that is some statement.
Oakland made a similar move under similar circumstances for Carson Palmer a couple of years back - and that did not go as planned.
The Raiders have also been building their offensive line through free agency, bringing in veteran tackles Donald Penn and Austin Howard, but although that looked like bad news for Menelik Watson it could be just the opposite.
Watson chance
Allen confirmed at the NFL owners' meeting that he wants second round Draft pick Watson to nail down the right tackle spot this season and move big-money signing Howard inside to guard.
Raiders general manager Reggie McKenzie confirmed that they hope both Britain's Watson and their first pick in last year's Draft, cornerback DJ Hayden, will both be starters this season.
"No 1, we would like for them to be healthy this season and then show their skills," McKenzie told the San Francisco Chronicle. "They'll get coached up during the offseason and hopefully they'll be healthy and ready to go and then play."
Manchester man Watson figured in just the last three games of his debut season, starting just once, as he was ruled out for long spells with injuries, but he hopes to make a big impact in his second year in the NFL.
If Watson does become a future Raiders star, it may not be in Oakland that he makes his name, with owner Mark Davies hinting that he could move his team back to Los Angeles if a long-term arrangement is not made in Oakland.
LA return?
"We're not done in Oakland. We're trying really hard, and we'll see how that goes," Davis said. "But Los Angeles is something that I've definitely thought about and haven't pursued. There are other places as well.
"Until we can find out if Oakland is real, then I'm still staying in Oakland. If we can get something done in Oakland, I will stay in Oakland.
"I know that we would be well embraced down there (in LA). There's no question about that.
"(Jean Quan, Mayor of Oakland) stated publicly that she wanted to have a deal done by the end of last football season. That came and went. Now she's talking about this summer. We'll see how that goes, but we're trying. We're really trying.
"What we've done is sign a one-year extension to our lease and we'll play this season. At the end of this season, we have to determine what's going to happen."