NFL: Running back Rashard Mendenhall announces retirement at age of 26
Last Updated: 10/03/14 11:39am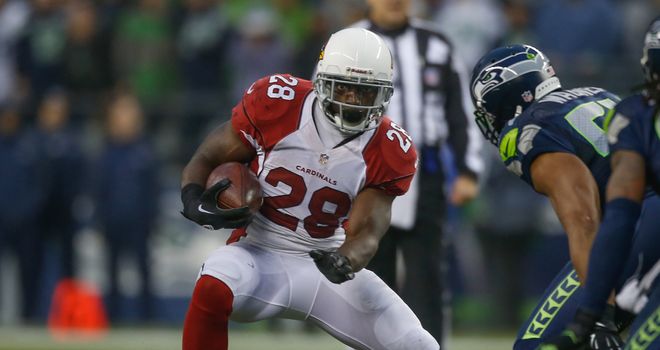 Rashard Mendenhall: Has confirmed rumours that he will retire from the NFL
American Football Betting

American Football Betting

Bet with Sky Bet
Former Arizona Cardinals and Pittsburgh Steelers running back Rashard Mendenhall has decided to retire at the age of just 26.
Speculation has mounted during the off-season that Mendenhall would walk away from football but the player did not confirm the news until Sunday night.
Mendenhall was a free agent at the end of the season and may not have been retained by the Cardinals but rumours of his retirement were still met with surprise given his age.
But Mendenhall, who won a Super Bowl with the Steelers at the end of the 2008 season, says he had grown tired of the online abuse he says he has received.
"There is a bold coarseness you receive from non-supporters that seems to only exist on the Internet," he wrote in a column for the Huffington Post.
Impact
"However, even if you try to avoid these things completely - because I've tried - somehow they still reach you. If not first-hand, then through friends and loved ones who take to heart all that they read and hear.
"I'm not a terribly sensitive person, so this stuff never really bothered me. That was until I realised that it actually had an impact my career.
"Over my career, I would learn that everything people say behind these computer and smartphones actually shape the perception of you - the brand, the athlete and the person."
Despite those negative experiences, Mendenhall says he has enjoyed his time in the NFL but says he is no longer willing to put his health at risk for a game which he believes his becoming more entertainment- rather than sport-based.
He added: "So when they ask me why I want to leave the NFL at the age of 26, I tell them that I've greatly enjoyed my time, but I no longer wish to put my body at risk for the sake of entertainment.
"I think about the rest of my life and I want to live it with much quality. And physically, I am grateful that I can walk away feeling as good as I did when I stepped into it."