NFL: Denver Broncos release veteran cornerback Champ Bailey after 10 seasons
By Paul Higham Twitter: @SkySportsPaulH. Last Updated: 06/03/14 6:10pm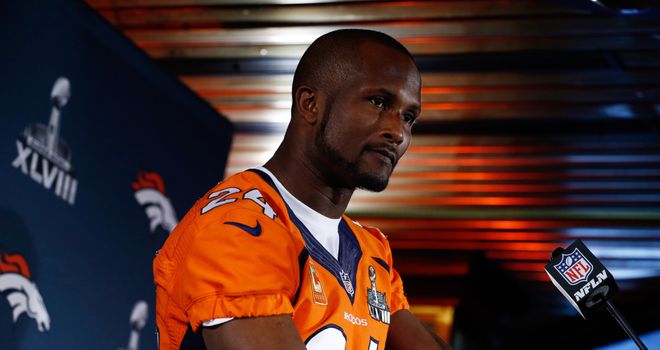 Champ Bailey talking at the Super Bowl
American Football Betting

American Football Betting

Bet with Sky Bet
The Denver Broncos have parted ways with veteran cornerback Champ Bailey, but he insists he is looking to play on for a 16th season in the NFL.
The 35-year-old, 12-time Pro Bowler was one of the leaders on the Denver team that made the Super Bowl in February, when they were dominated by the Seattle Seahawks in New Jersey.
After five seasons with the Washington Redskins and then the last decade in Denver, Bailey will hit free agency for the first time in his career, which should one day see him into the Hall of Fame.
Denver took the decision not to pay Bailey, who was the second-highest earner behind Peyton Manning last year, the $9 million he was set to earn this coming season, and he confirmed they did not even offer to keep him on a reduced salary number.
The decision certainly has not gone down well with Bailey, who did struggle with injury last season and started just three games in the regular season - which looks to have tipped the balance for the Denver front office.
"It sucks, but at the same time, I have to move on," Bailey told USA Today. "I can't dwell on it. I know they're not dwelling on it. It's bittersweet. Now I get to go see what is out there. I'm looking at the positive side of it."
Playing it safety?
Bailey is still keen to play on in the NFL, and would even consider playing at safety if adding versatility will make him a more attractive proposition for a new team.
"I just want to see what people will want me to do. My vision is to still play corner, but I'm a little more open-minded about the season I had last year." Bailey said.
"I'm a corner at heart. If a situation made sense to play safety, then I would consider it."
With so many cornerbacks on the free agent market, Bailey will likely not be a top priority for most teams, but he could well land a short-term deal to add his huge wealth of experience to the right team.
Bailey has recorded 52 interceptions during his career and registered 902 total tackles, but injuries in particular have slowed his production of late.
The secondary is a real issue for the Broncos this off-season, with their best corner Dominique Rodgers-Cromartie set to become an unrestricted free agent so they have to make some big and fast decisions.