NFL Pro Bowl: Game could move from Hawaii to Arizona for next season
The NFL could be moving next year's Pro Bowl from Hawaii to Arizona to be played on the same site as the Super Bowl.
Last Updated: 26/02/14 12:41pm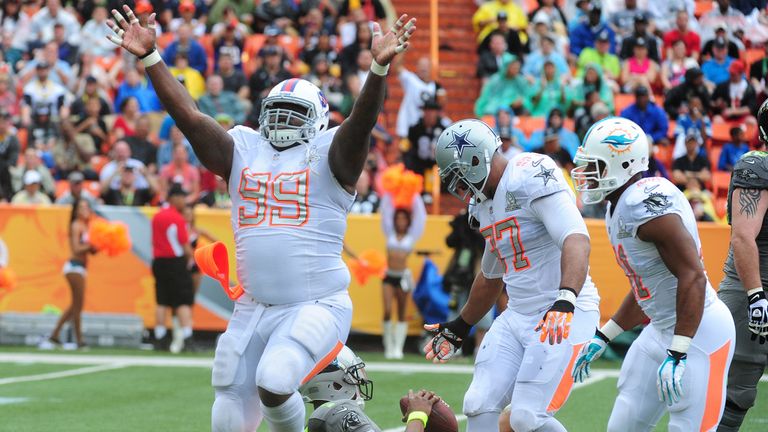 The Pro Bowl has been played in Hawaii for 34 of the last 35 seasons, with the only exception coming in 2010 when it was played in Miami the week before the Super Bowl was also staged in the same venue.
That was also the year the NFL moved the game to the week before the Super Bowl from the week after, when it was considered to be losing relevance coming effectively after the season's big finale.
In the years since the Pro Bowl has descended into little more than a family holiday for the NFL's best players, with the game itself being nothing but a jog around Aloha Stadium in Honolulu.
This year, to spice up the game, the traditional NFC v AFC format was scratched and a Draft was held by team captains Deion Sanders and Jerry Rice to select their own teams - which did result in a more competitive affair.
With the Super Bowl next year being held at the University of Phoenix Stadium in Glendale, Arizona, the NFL are seriously considering rekindling the idea of playing the Pro Bowl at the same venue the week before.
This would help with coverage of the game and would also ensure that the league's top players are all in and around the Super Bowl venue in the lead-up to the big game.
Some played did kick up a bit of a stink the last time the Pro Bowl was moved from Hawaii, as some even see just the trip as a reward for being selected, but given the anticipated warm weather in Arizona they should have few complaints this time around.
Of course, if it becomes the new normal to stage the Pro Bowl at the same venue as the Super Bowl, that could become an issue if the NFL revisits cold weather destinations in the future after the relative success of New Jersey.