NFL Draft prospect Michael Sam reveals he is gay
Last Updated: 10/02/14 7:22am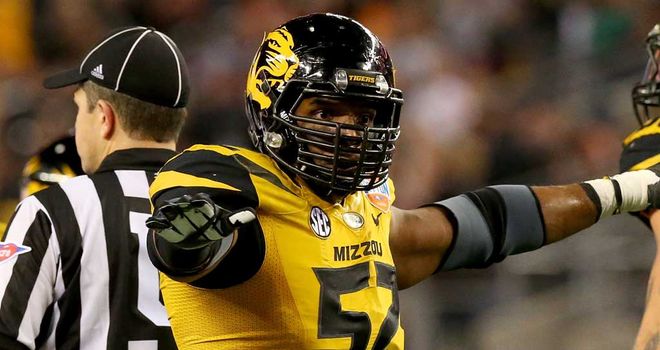 Michael Sam: NFL Draft prospect has revealed he is gay
American Football Betting

American Football Betting

Bet with Sky Bet
All-American defensive lineman Michael Sam could become the first openly gay player in the NFL next season after coming out in an interview on Sunday.
Sam is eligible for the NFL Draft in May and pundits expect him to be taken in the first four rounds, and he admitted the time had come to state publicly what his team-mates at Missouri have known since August.
The 24-year-old is rated the 12th best outside pass rusher in the draft and he ended last season with 11 1/2 sacks and 19 tackles for a loss.
He revealed he was surprised how many people were aware of his sexual orientation during the Senior Bowl two weeks ago, where college football's leading players are given a chance to impress scouts from the 32 NFL teams.
"I understand how big this is," Sam said. "It's a big deal. No one has done this before. And it's kind of a nervous process, but I know what I want to be ... I want to be a football player in the NFL.
Negativity
"I didn't realise how many people actually knew, and I was afraid that someone would tell or leak something out about me. I want to own my truth. No one else should tell my story but me.
"There will be negativity, negative reactions. I expect that. Everyone can say hurtful things and hateful things; I don't let stuff like that distract me. But there are going to be positives. The positives will outweigh the negative."
The NFL released a statement on Sunday night supporting Sam's stance.
It read: "We admire Michael Sam's honesty and courage," NFL senior vice president of communications Greg Aiello said.
"Michael is a football player. Any player with ability and determination can succeed in the NFL. We look forward to welcoming and supporting Michael Sam in 2014."