NFL: Three International Series games at Wembley during 2014 season sold out
All three International Series games at Wembley this year have sold out, NFL commissioner Roger Goodell confirmed.
Last Updated: 13/02/14 4:01pm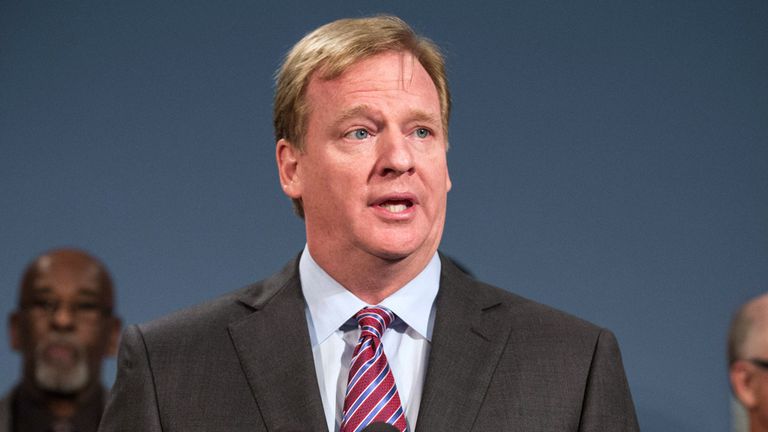 Goodell has frequently hinted that he would like to install an NFL franchise in London, and he admitted the city is "further down the road" to having a permanent team following the news of the three sell-outs.
Speaking at his annual address ahead of Sunday's Super Bowl XLVIII in New York, it did not take long for Goodell to address the subject of the NFL in London.
"I believe that the response to the third game in the UK, and the way that the fans have embraced that, sold that out in such a short period of time is just another indication that the more we give fans in the UK, of NFL football, the more they want," said Goodell.
"That's a great tribute to the fans there, and their passion."
The NFL sold out two International Series fixtures at Wembley last year, and Goodell's plans for a London franchise now appear to be a strong reality.
"I believe you are further down the road because you are now three games into it. What our next step is, I don't know," he added.
"That's something we're going to have to evaluate. We believe that we are going to continue to grow there and that's going to take work.
"We're going to have to continue to invest in that marketplace and find ways to engage those fans even more deeply. And I'm optimistic that they will continue to respond positively, as they already have.
"I think you are going to be amazed at the passion for football over there. When I go over for the games in London I continue to be impressed with the knowledge of the fans over there, some of them who come from all over Europe."
Goodell, who is under pressure in the United States to move a franchise to Los Angeles, also announced that he was pressing ahead with plans to add an extra two teams to the play-off schedule.
He revealed that talks over increasing the number of play-off qualifiers to 14 would "continue to get serious consideration."