Super Bowl XLVIII: Denver Broncos quarterback Peyton Manning brushes off legacy talk
Last Updated: 29/01/14 6:28pm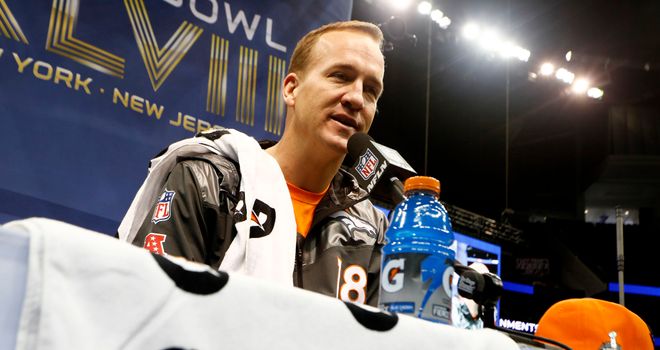 Peyton Manning: Not getting drawn into any debate over his legacy
American Football Betting

American Football Betting

Bet with Sky Bet
Denver Broncos quarterback Peyton Manning refused to be drawn into any talk about his legacy ahead of Super Bowl XLVIII.
Manning is a huge favourite to win his fifth MVP award after a record-breaking 2013 in which saw he set new NFL single-season marks for passing touchdowns and passing yardage.
The 37-year old is widely believed to be one of the best quarterbacks ever, but the fact he has just one Super Bowl victory and an otherwise modest play-off record is often held against him when the 'greatest of all-time' debate comes up.
If Manning were to add a second NFL championship ring to his collection it would certainly erase much of the doubt over his ability in the clutch, but the 13-time Pro Bowler is not focusing on how he compares to the greats of the game.
"I've been asked about my legacy since I was 25 years old, which I'm not sure you can have a legacy when you are 25 years old, or even 37," Manning said at Super Bowl media day.
"I thought you had to be 70 to have a legacy. I'm not 100 per cent sure what the word even means. I'm down the homestretch of my career, but I'm still in it.
Second chapter
"It's not over yet. It's still playing out. This has been the second chapter of my career, and it is an exciting chapter. I'm certainly excited to be back in the Super Bowl on behalf of the Denver Broncos."
Manning is attempting to become the first quarterback in NFL history to win the Super Bowl as a starter for different teams having triumphed seven years ago with the Indianapolis Colts.
He was drafted first overall by the Colts in 1998 but was cut by the team after missing the whole of the 2011 season through injury.
"I was entrenched in one offensive system, under one culture for 14 years," Manning added.
"So playing for a new head coach, playing for a new offensive coordinator in Adam Gase, playing with some new team-mates, I'm learning new things about football.
"Football is a game, especially playing quarterback, (that) if you ever stop learning, that's when you are in trouble.
"You are constantly learning. I've learned a lot these past two years that has helped me stay stimulated and stay excited about the game of football."